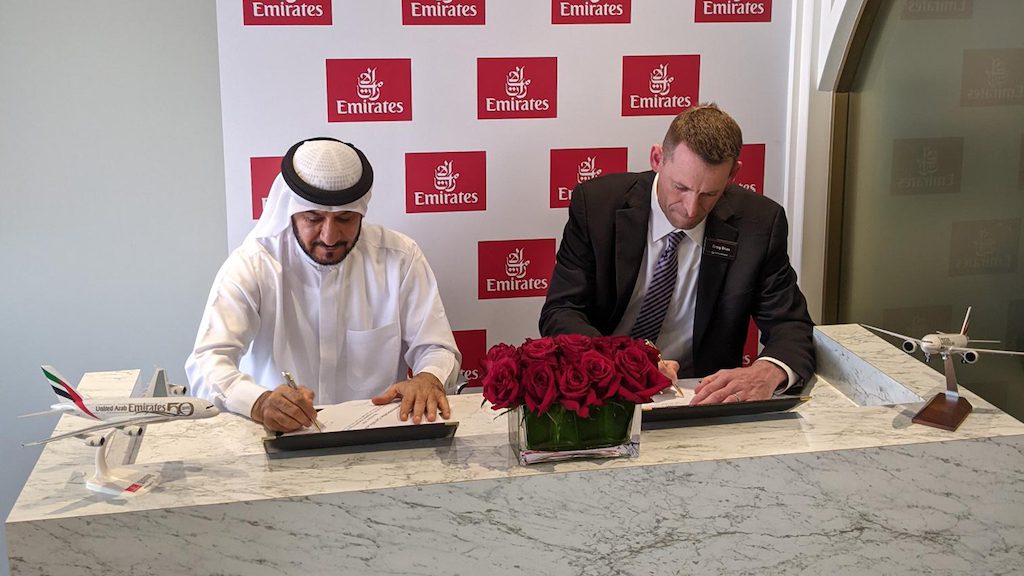 Emirates is retrofitting its fleet of Airbus A380 and Boeing 777 aircraft with upgraded avionics and in-flight entertainment (IFE) systems, according to separate announcements made by the Middle Eastern carrier and Collins Aerospace during the Dubai Air Show.
Under an agreement signed with Collins Aerospace, Emirates will modify its fleet of 101 total 777s and 107 total A380s with the GLU-2100 multi-mode receiver (MMR). Collins is also supplying a " full suite of avionics and satcom capabilities to Emirates' 777X aircraft," according to a Nov. 16 press release.
MMRs are designed to ensure the integrity of aircraft positioning, velocity and timing reference, as well as availability of aircraft in low visibility conditions, according to Collins Aerospace. The GLU-2100 MMR that Emirates will install on its aircraft also features a flexible hardware baseline necessary to implement future Global Navigation Satellite Systems (GNSS) functionality such as multi-frequency and multi-constellation (MFMC), and Ground Based Augmentation System (GBAS) Category II/III via software-only update, the company says.
Airbus recently approved the GLU-2100 MMR as line-fit equipment on its Airbus A320, A330 and A350 aircraft.
Additionally, some of the A380s and 777s being modified with the GLU-2100 MMR are also being targeted by Emirates to be retrofitted with a new Premium Economy cabin class. The 18-month retrofit program was announced in a Nov. 16 press release published by Emirates, noting that it will see a combined 111 Boeing 777 and Airbus A380 aircraft equipped with the new cabin class.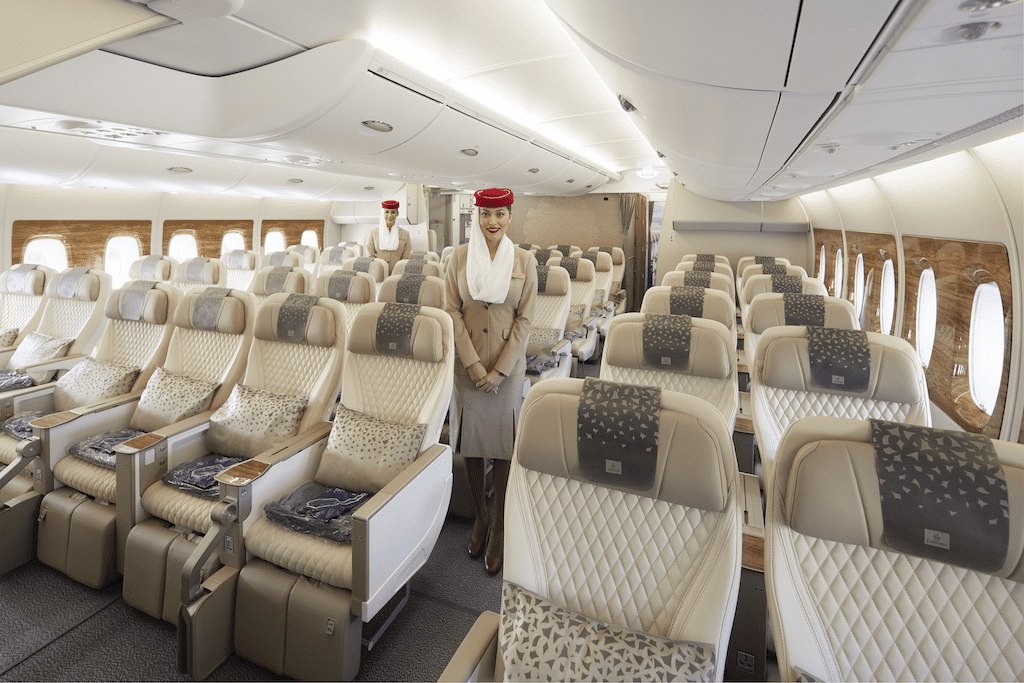 On the Boeing 777 fleet, five rows of Economy class seats located just behind Business Class will be removed to install 24 Premium Economy seats laid out in 2-4-2 configuration. On the selected A380s, 56 Premium Economy seats will installed at the front of the main deck also in 2-4-2 configuration, according to Emirates.
Each Emirates Premium Economy seat includes a 13.3-inch personal seat-back screen and the airline's Ice in-flight entertainment system.
"Emirates is investing in this retrofit programme to ensure that we continue to serve our customers' needs, and provide the best experiences in the sky. Since we introduced our Premium Economy seats a year back, we've received a hugely positive response," Tim Clark, President Emirates, said in a statement. "Customers have been amazed by the quality and comfort. As Emirates has done with our signature First, Business and full-service Economy travel experiences, we intend to further develop our Premium Economy into a distinctive Emirates experience that is unmatched in the industry. We are also considering a brand new Business Class product. More details will be revealed in due course."
Source: Emirates to Upgrade Airbus A380 and Boeing 777 MMRs and Cabin Interiors