Who is Daniel Gomez?
Daniel Gomez has over a decade of experience in the corporate world as a speaker, business coach, corporate trainer, and executive coach.
Daniel Gomez Inspires – Motivational Speaker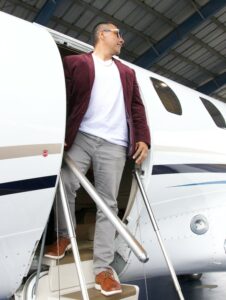 Daniel Gomez travels all around the world to teach and speak at events! He aims to help people, companies, and entrepreneurs reach their full potential by providing training and coaching programs. As a consequence, many of Daniel's clients see revenue increases of more than 50%.
Daniel was named one of the Top 20 Executive Coaches for 2020 in San Antonio, Texas. He is also a leader, influencer, and best-selling author three times internationally. In addition, Daniel Gomez is the recipient of the Podcaster of the Year award for The Daniel Gomez Inspires Show.
Daniel's enthusiasm for life and ability to unleash people's untapped skills have made him a highly sought-after keynote speaker and corporate trainer for top organizations, including the U.S. Air Force. He was given the "Best of 2019, 2020, 2021" accolades for his training and business coaching.
Daniel Gomez Philanthropy
Daniel and Mari Gomez are a couple who believe in giving back and assisting women who have been impacted by breast cancer. As a result, they established their 501(c)(3) nonprofit organization, "The Mari Strong Foundation." Daniel is the ideal person to help you with your challenges!
The Makings of a Millionaire Mind book and course
Most people, as adults, never put any money into themselves after high school. They never pick up a book or put effort into their personal development. But, Daniel says, "You are different! You are a winner! You were born to make millions!"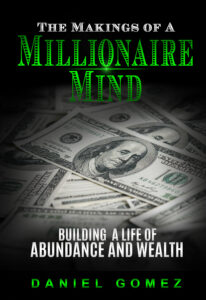 Have you ever wondered why some folks seem to get wealthier while others, no matter how hard they try, never achieve financial success? Instead, they find themselves working hard just to make ends meet. Daniel says that the answer lies in our mindset.
People with a millionaire mindset think and behave differently than those who don't. They have a burning desire to succeed, take massive action, and never give up on their dreams. Daniel's book, The Makings of a Millionaire Mind, will teach you how to develop a millionaire mindset to achieve your financial goals and live the life of your dreams!
The Makings of a Millionaire Mind is designed to help you
Develop a millionaire mindset

Take massive action

Achieve your financial goals

Live the life of your dreams!
Stop tolerating simply existing and having "too much month left at the end of your money."
"On my path, it hasn't been simple. I've shed tears. I've wanted to give up many times, and I've wanted to quit numerous times. I was a kid who ate cereal with water because we couldn't afford milk. I'll let you in on the secrets that helped me become the successful millionaire I am today," says Gomez.
Today is a new day for you and your family. With a fresh genealogy for your household, you will alter the course of your family tree. You will begin a new legacy. As you read my book or study The Makings of a Millionaire Mind course, you are about to learn wealth and prosperity principles that will transform your life and business! These ideas have worked for me in my own life.
The Millionaire Affirmation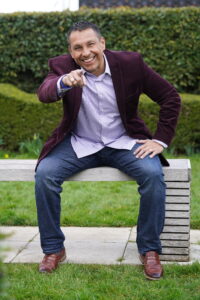 The "Millionaire Affirmation" activities will provide you with daily action steps to help you expand your belief system and believe more in yourself. In addition, they will assist you in thinking, feeling, and acting like a millionaire. To be a millionaire, you must think and feel like one!
The Money Files
The "Money Files" part of the book will assist you in changing your mindset and thinking and acting like a millionaire.
Prepare for a thrilling adventure! This is a process of going from a poor man's "financial inner economy" to having the "financial inner economy." of a millionaire. It's known as the journey of becoming.
You have all the elements of a millionaire mentality within you. But, you're about to embark on an incredible journey! This is your chance to make your dreams come true and start living the life you've always imagined. The Makings of a Millionaire Mind are waiting for you inside yourself.
Sticker Shock Speaking Academy
Imagine yourself making more in an hour than most people do all month. Sticker Shock is more than a speaking academy; it's an adventure! After attending Sticker Shock Speaking Academy, you will not be the same.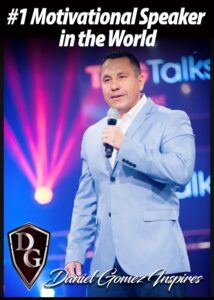 Sticker Shock Speaking Academy provides the blueprint for establishing and running a successful speaking business. These are tried-and-true speaking business processes, automation, and tactics that have helped Daniel Gomez earn hundreds of thousands of dollars in revenue.
Sticker Shock Academy attendees have earned thousands of dollars in paid speaking engagements. Daniel Gomez has been an award-winning Paid Professional Speaker for many years. He'll show you how to become a highly paid speaker.
Speaking legends like John Maxwell, Les Brown, Tom Bilyeu, and other superstar speakers have performed alongside Daniel Gomez live.
Hire Daniel Gomez to speak at your next event, or get in touch with him on social media!
"I've been speaking at events for years, but when I met Daniel Gomez and attended Sticker Shock Speaking Academy, it was life-changing. I gained a sense of self-worth I had never realized and started seeing myself in a whole new light. Even if you're already speaking professionally, I would highly recommend connecting with Daniel Gomez to improve your skills and maximize your revenues!" – M. Curtis McCoy