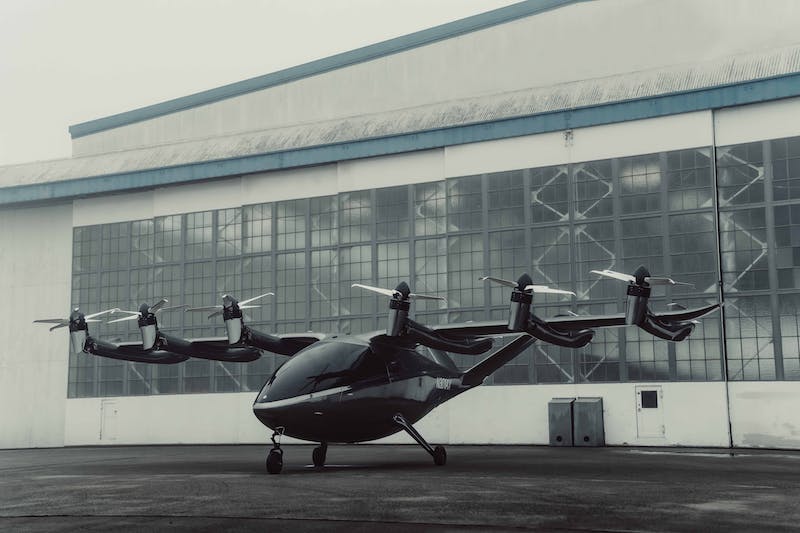 Archer Aviation is preparing for the first hover flight of its Maker electric vertical takeoff and landing (eVTOL) aircraft in December, according to comments made by the company's co-founders during their first quarterly earnings call as a publicly traded company held on Thursday.
Adam Goldstein and Brett Adcock, Archer's two co-CEOs, told analysts during the call that they plan on selecting and starting construction on a manufacturing site next year, are in the process of developing a Maker 2 eVTOL demonstrator and will unveil their first production aircraft in 2023. According to results published in a letter to shareholders, the company finished the third quarter with a net loss of $177 million, and added several key new program hires across multiple engineering disciplines including aerodynamics, systems and safety engineering, battery systems and flight control systems among others.
"We are pleased to announce that we have relocated maker from our design and development facility to the hangar facility, from which we will conduct our Maker test flights. The aircraft is currently undergoing preparations for its hover flight, which we anticipate will take place by the end of this year," Goldstein said. "We intend to unveil the first-generation of our production aircraft in 2023. It will be a piloted aircraft that can carry up to four passengers. We recently completed our conceptual design review of this aircraft, and we're currently in the preliminary design stage."
If Archer does achieve its first hover flight before the end of the year, the period from the initial design of Maker to its first flight will have lasted just two years. Seven generations of sub scale eVTOL of various designs have been developed and flown over one thousand sub scale test flights, according to the company.
In addition to the G-1 certification basis milestone recently achieved by Archer, the FAA also recently issued their Certificate of Authorization and the aircraft limitations for Maker–two of the key components toward earning the special airworthiness certificate to serve as the basis that permits the aircraft to start test flights.
Adcock also provided an update on some of the commercialization plans Archer has envisioned for actually selling and operating eVTOLs. The co-founder said that they plan to sell roughly half of all the eVTOL aircraft they produce through their Archer Direct division to operators like launch customer United Airlines. The other half would be owned and operated by Archer on their own individual networks deployed in cities such as Los Angeles and Miami, where they have already stated they will pursue electric air taxi operations.
"We're going to build our own applications as it relates to the booking and check-in process for users, to really make sure it's a really seamless experience for users and think through all the different underlying things around checking in and luggage and multi-modality of different trips of getting to, and from where you're going. We plan to release our mobile booking application app in 2023. And we plan to receive our Part 135 certificate as it relates to running these operations in 2024," Adcock said.
Goldstein also noted during the call that Archer believes the bulk of demand for its eVTOL operations will be "urban air mobility missions," with an average flight covering 25 miles. During a recent interview with Avionics International, Julien Montousse, Vice President of design and innovation at Archer, explained how their team is designing the production version of their eVTOL in an effort to be visually appealing and easily achieve integration into the vertiports they're developing in partnership with mobility hub operator REEF Technology Inc.
Adcock also discussed Archer's approach to developing the flight control system for the four-passenger production version of their eVTOL as well. According to Adcock they have already selected "numerous partners" for the development of their aircraft's avionics systems, and those announcements will be made "over the next couple of years."
"It's one of the harder areas here to certify, a fly-by-wire system. We think we have a really good grasp on what to do here. We haven't guided to exactly how we're going to do that. Some of this from a competitive perspective is really important for us to keep in house. The person leading our flight control system work, is Sergio Ferreira, who recently ran Gulfstream's fly-by-wire program, for the G650 most notably. We have a really strong team here that we've been building in house to help lead this area of our certification development, and it's certainly going to be a really important focus item for us," Adcock said.
Source: Archer on Track for First Maker eVTOL Flight in December