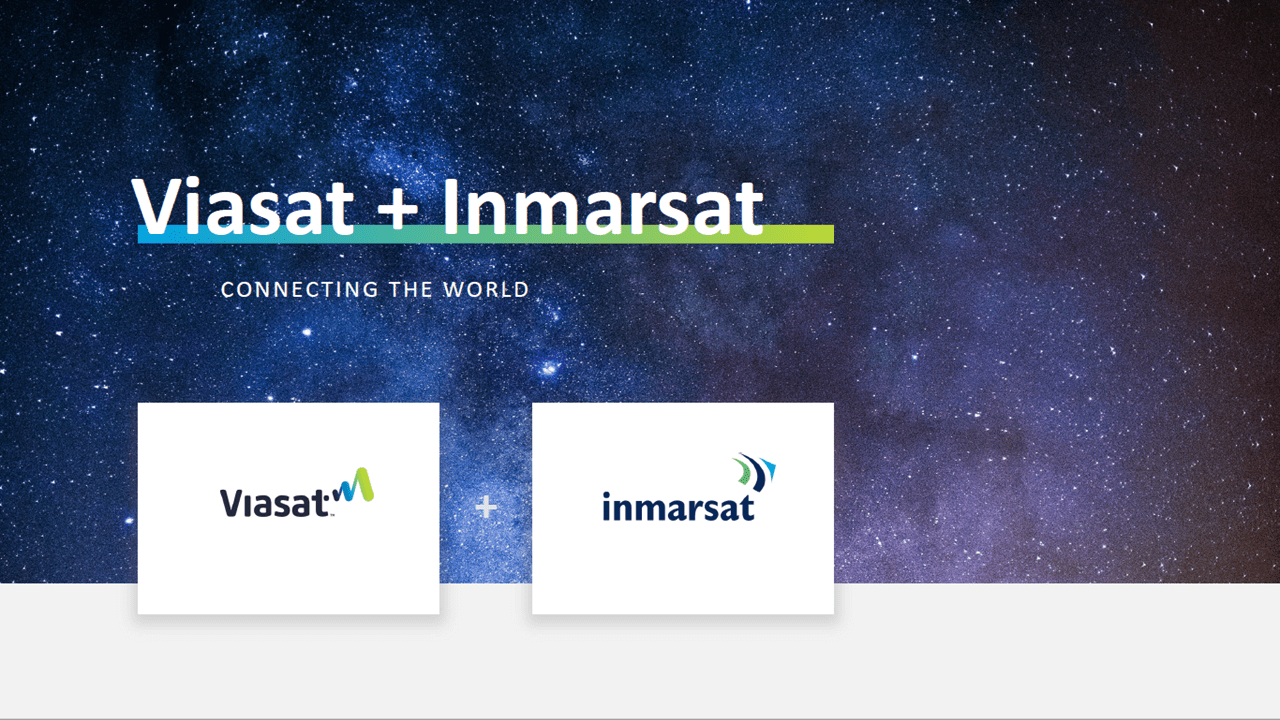 Viasat has entered into a definitive agreement to acquire Inmarsat for $7.3 billion, in a deal that the California-based satellite communications believes will help to serve the surging growth of passenger demand for in-flight connectivity (IFC), according to a Nov. 8 conference call featuring executives from the two companies.
If approved, the combined company would hold a spectrum licenses across the Ka-, L- and S-bands and a fleet of 19 satellites in service with an additional 10 spacecraft under construction and planned for launch within the next three years. Viasat Executive Chairman Mark Dankberg highlighted commercial aviation IFC as one of the key market sectors that will benefit from the expanded bandwidth and capacity that will become available to existing and future users of the two networks.
"Inmarsat brings international long haul in-flight connectivity plus essential cockpit and safety communications that are largely dependent on a highly resilient and weather proof L-band and that involves creating a lot more relationships with airlines. Inmarsat also serves business and general aviation with a combination of low cost narrowband and broadband which will also benefit from the depth and geographic focus of Viasat-3," Dankberg said during the call.
Data released by Viasat during the call about Inmarsat's aviation market position shows that the company currently enables IFC on 2,400 in-service aircraft and has another 2,900 in its order backlog awaiting. There is also a total of 9,000 aircraft that currently use Inmarsat's legacy L-band network for safety services cockpit communications with air traffic controllers, while more than 15,000 business and general aviation aircraft are connected via Inmarsat as well.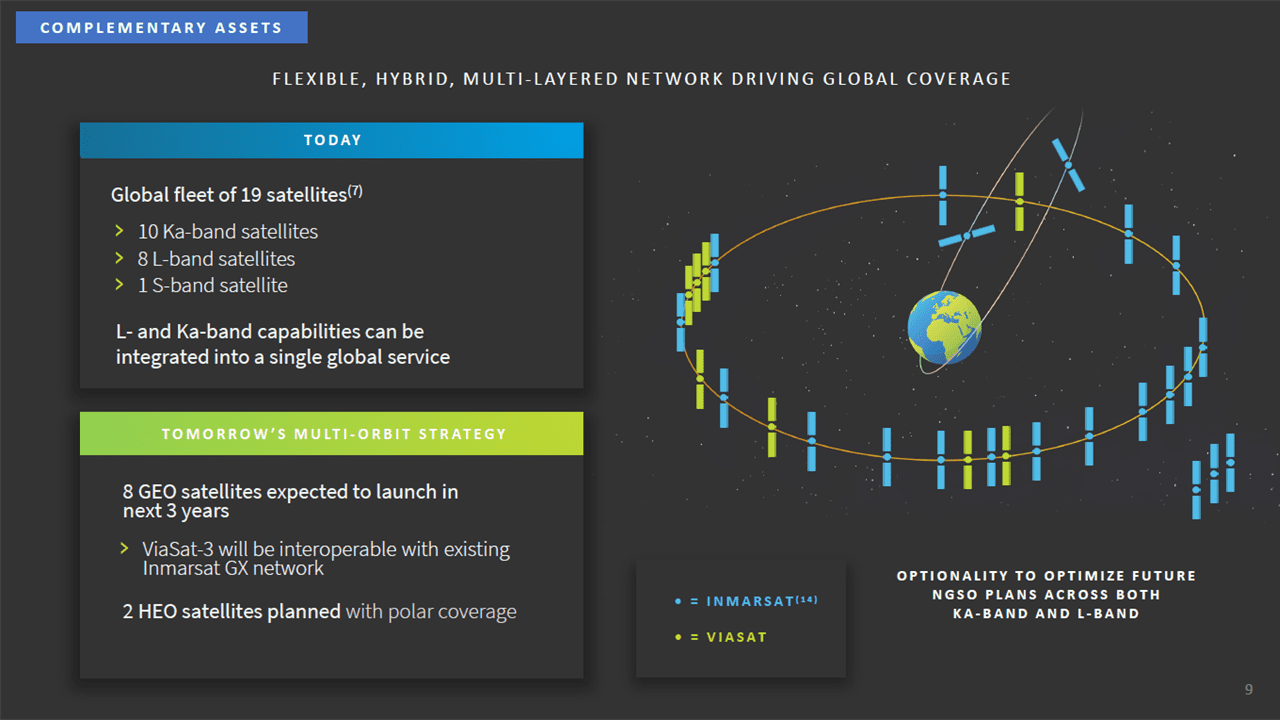 Under the acquisition Inmarsat will be joining a company whose commercial aviation portfolio has continued to expand in recent years, especially in the North American market where prominent airlines like American Airlines, Delta, JetBlue and United now feature Viasat IFC. As an example, Delta announced it would start installing Viasat IFC on 300 of its Airbus A321ceo and Boeing 737-900ER/757-200s in January.
Dankberg also discussed how the combined company will be able to meet the growing in-flight passenger demand for more bandwidth intensive internet content, such as streaming and video-based applications. The combined company will also focus on serving the need for airlines to be able to give passengers on aircraft operating near busy airport hubs a reliable IFC experience that is not impacted the concentrated area of demand growth that can sometimes create.
Since Inmarsat and Viasat operate Ka-band networks, the IFC terminals developed by each can be made interoperable across the other's network. Dankberg said Viasat already has experience enabling that type of interoperability for some of its existing government customers.
"There's huge growth in broadband demand on all aircraft, not just those that transit oceans and it's driven really by the passengers consuming more internet content and more video. As a result, the global air travel satellite bandwidth demand is becoming very concentrated over major hub cities," Dankberg said. "You can pick an example like New York where you can have as many as 500 to 1,000 planes converging on the three major airports there from all over the world. That's where Viasat's current and future satellites provide enormous benefit to airlines and passengers. The airlines are really learning that the most difficult challenge to excellent in-flight connectivity is when their aircraft and everyone else's converge at these hub airports."
Dankberg also highlighted potential demand and need for connectivity that could eventually emerge from new airspace entrants such as unmanned aircraft systems and electric vertical takeoff and landing (eVTOL) aircraft.
Viasat's acquisition agreement comes following more than a year of significant partnerships and network expansion plans announced by Inmarsat as well. In October 2020, Inmarsat partnered with Hughes Network Systems to establish GX+ North America, a Hughes Jupiter satellite fleet–the largest Ka-band satellite capacity over the U.S.–with Global Xpress (GX), the aviation satellite network launched by Inmarsat in 2016.
More recently, in August, the company unveiled its plans to establish Orchestra, a future communications configuration that will combine existing geosynchronous (GEO) satellites with low earth orbit satellites (LEO) and terrestrial 5G into an integrated network. The technology roadmap for Orchestra extends into the 2040s, operating as a dynamic mesh network that will eventually enable "direct-to-cloud" connectivity for airlines along with a significant expansion in the amount of capacity available for existing L-band and Swiftbroadband users.
"We have been moving fast at Inmarsat since I joined as CEO in March. Building stronger commercial capabilities, deepening our customer focus, targeting the largest, growth opportunities and accelerating our technology with the recent announcement of Orchestra, a dynamic mesh network of the future that still looks to integrate, GEO, LEO MEO and 5G and ELERA the global network for IoT safety and mission critical connectivity," Rajeev Suri, CEO of Inmarsat, said during the analyst call.
Viasat's executive team expects the acquisition to achieve global regulatory approval and become finalized within the next 18 months.
Source: Viasat Sees Acquisition of Inmarsat Helping Growth of Passenger Demand for In-flight Connectivity