Six EA-18G Growlers Have Deployed To Germany For Deterrence Mission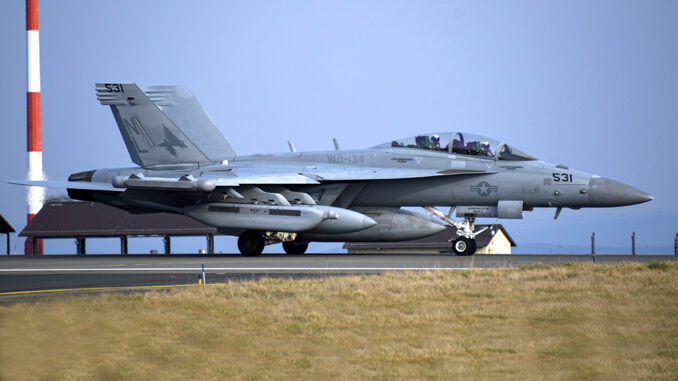 U.S. Navy EA-18G Growlers have arrived at Spangdahlem Air Base to increase readiness and enhance NATOs collective defense amid growing tensions in Eastern Europe.
Six EA-18G Growler aircraft belonging to the Electronic Attack Squadron (VAQ) 134 "Garudas", from Naval Air Station (NAS) Whidbey Island, Washington, arrived at Spangdahlem AB, Germany, on Mar. 28, 2022 to "bolster readiness, enhance NATO's collective defense posture and further increase air integration capabilities with Allied and Partner nations."
"They are not being deployed to be used against Russian forces in Ukraine," Pentagon Press Secretary John F. Kirby said. "They are being deployed completely in keeping with our efforts to bolster NATO's deterrence and defense capabilities along that eastern flank." Kirby also said there was no specific threat or incident that drove the decision to send the aircraft to Germany.
"They are being deployed, as we have said all along, [because] the secretary wants to keep options open," he said. "He's in constant consultations with [Gen. Tod D. Wolters, commander of U.S. European Command and NATO's Supreme Allied Commander Europe]. And as a result of discussions with Gen. Wolters, as well as the German government, this was deemed to be an additional move that could continue to bolster and reinforce our defenses on the eastern flank."
It's the first time the type deploys to Spangdahlem, that already hosts 12 F-35A Lightning II fifth generation fighter aircraft from Hill Air Force Base's 34th Fighter Squadron and four KC-135 Stratotankers from Fairchild Air Force Base's 92nd Air Refueling Wing.
The EA-18G are an interesting addition to the NATO Orbat operating in Eastern Europe as a consequence of the Ukrainian crisis and war: based off of the F/A-18F, the Growler is an Electronic Attack variant of the Super Hornet. The most noticeable difference with the baseline SH are the wingtip pods housing the ALQ-218 signals receiver suite, which helps to detect and geolocate emitters and signals. The AN/ALQ-218 is a high performance RWR/ESM/ELINT system that allows the aircraft collect data about sources of radio frequency (RF) emissions: with this sensor, the EA-18G can fly inside NATO airspace and from there "sniff" Russian radio signals to update the EOB (Electronic Order of Battle) of the Ukrainian war.
The aircraft carry the ALQ-99 Tactical Jamming System underneath the wings instead of bombs carried by conventional fighters. These jamming pods, which are to be replaced by Next Generation Jammer jamming pods we have covered in detail in some recent articles, delay, degrade and deny the enemy's use of the electromagnetic spectrum: controlling what information and communication is available can provide an immense tactical advantage on the battlefield and enables Coalition forces to carry out their missions with impunity.
The EA-18G is equipped with an airborne electronic attack (AEA) avionics suite that has evolved from the EA-6B's Improved Capability III (ICAP III) AEA system. The Navy states that "the EA-18G's electronic attack upgrades meet or exceed EA-6B Airborne… Electronic Attack capability to detect, identify, locate and suppress hostile [electromagnetic] emitters; provide enhanced connectivity to National, Theater and strike assets; and provide organic precision emitter targeting for employment of onboard suppression weapons to fulfill operational requirements."
In the future, with the Block II Growler upgrade and the NGJ (Next Generation Jamming) pods, the Growlers will also have Cyber Attack capabilities that will allow the EA-18Gs to "hack" or inject malware into enemy network.
The Growler is also capable of carrying the HARM (High speed Anti-Radiation Missile) and AARGM (Advanced Anti-Radiation Guided Missile); these weapons are designed to seek out threat weapons systems and emitters, guiding on their energy, and destroy them.
David Cenciotti is a freelance journalist based in Rome, Italy. He is the Founder and Editor of "The Aviationist", one of the world's most famous and read military aviation blogs. Since 1996, he has written for major worldwide magazines, including Air Forces Monthly, Combat Aircraft, and many others, covering aviation, defense, war, industry, intelligence, crime and cyberwar. He has reported from the U.S., Europe, Australia and Syria, and flown several combat planes with different air forces. He is a former 2nd Lt. of the Italian Air Force, a private pilot and a graduate in Computer Engineering. He has written five books and contributed to many more ones.
Source: Six EA-18G Growlers Have Deployed To Germany For Deterrence Mission