German urban air mobility developer Volocopter has established a new partnership with the largest airport operator in Italy in an effort to start developing the infrastructure that will enable electric vertical takeoff and landing (eVTOL) operations in Rome and other areas of the country, according to an Oct. 27 announcement from the two companies.
Under the new partnership, Rome has become one of the first cities in Europe to commit to establishing electric air taxi operations in the near future—following a commitment made last year by Paris to bring electric air taxis there in time for the 2024 Olympic Games. Together with the Italian authorities and regulators and with Atlantia's full support, Aeroporti di Roma (ADR), and Volocopter will raise public awareness about UAM and bring it to Italy within the next 2-3 years.
"We are confident that the collaboration between ADR and Volocopter can give rise, in the short term, to important innovations from the industrial point of view. These two companies are strongly focused on the development of sustainable businesses and have a strong technical expertise," Carlo Bertazzo, CEO of Atlantia said in a statement. "As Atlantia, we will continue to support the diffusion of Urban Air Mobility in our international hub in Rome and in our airport system of Nizza, Cannes and Saint Tropez, proud to be developing a new transport technology that we can then export to our other European airports, as well as on a global scale."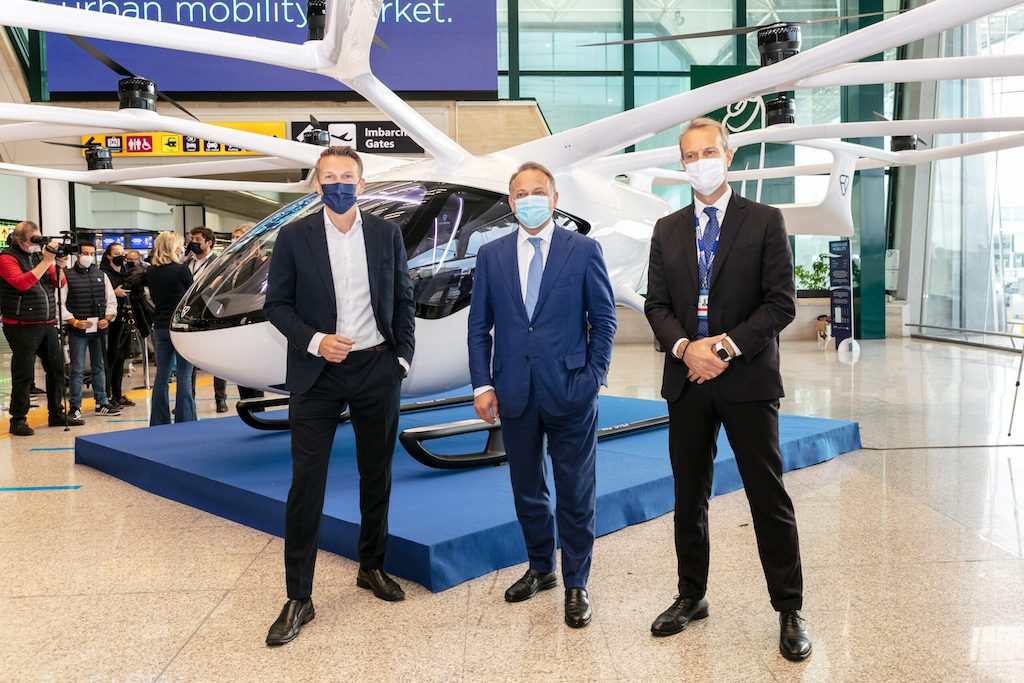 Volocopter describes ADR as being industrially and technologically committed to the development of new vertiports in support of the new partnership. In particular, the new service will connect the international hub "Leonardo da Vinci" with various places in Rome, through vertical airports. In addition to the new partnership, Atlantia also recently became an investor in Volocopter.
Volocopter is exhibiting its VoloCity air taxi at Fiumicino Airport this week, with plans to move it to Piazza San Silvestro in Rome, Italy next week.
The partnership to bring eVTOL flights to Italy is the latest development for the German eVTOL maker, following a recent joint venture agreement with Aerofugia to be operated as Volocopter Chengdu in China. Volocopter is developing two electric vertical takeoff and landing (eVTOL) aircraft, VoloCity and VoloConnect, and a heavy-lift drone, VoloDrone.