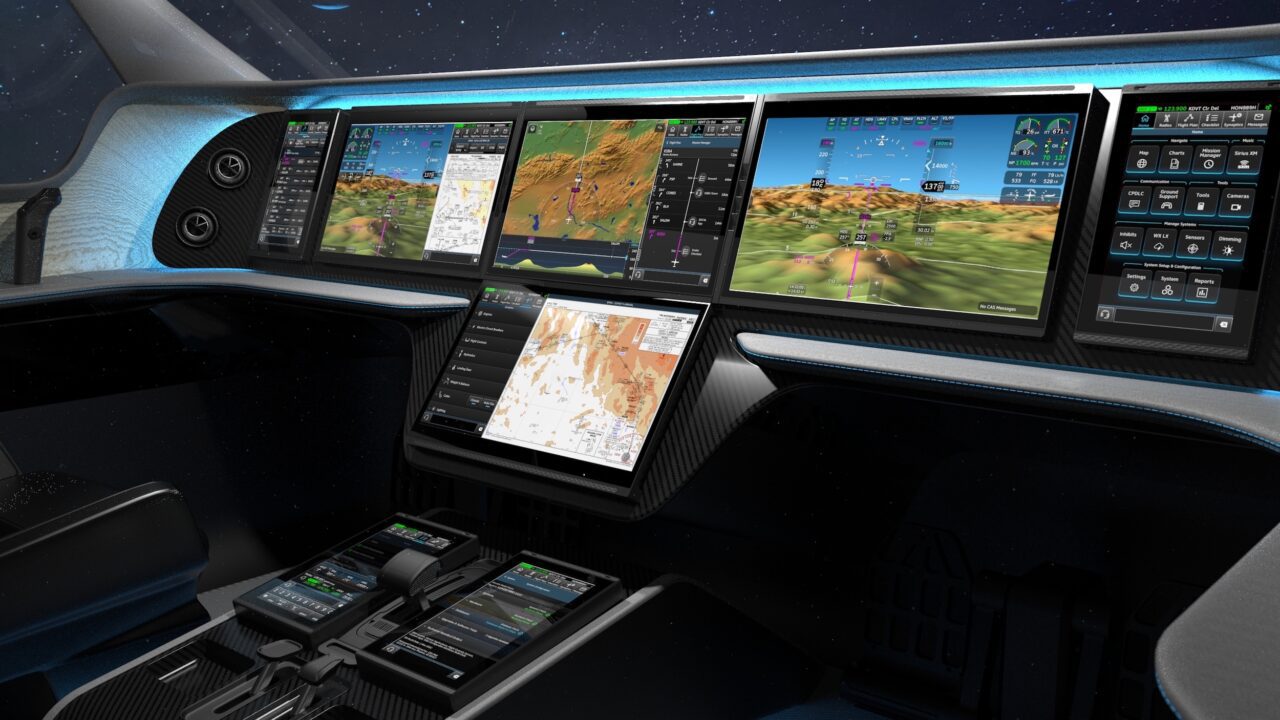 Anthem is the first clean-sheet next generation core avionics cockpit systems computing architecture introduced by Honeywell Aerospace in more than two decades, and the first to feature cloud-native communications, navigation and surveillance systems.
Honeywell is taking a disruptive approach to the development of Anthem, embedding the processing—traditionally provided computers and cabinets of processing modules arranged in an aircraft's electrical equipment bay—inside smart displays for a complete makeover of the concept of an avionics human-to-machine interface.
The cloud that Anthem is native to is Honeywell Forge, the software as a service edge to cloud computing platform first introduced by Honeywell in 2019. Since then, Honeywell Forge has continued to expand to effectively become Honeywell's version of a Microsoft Azure-like cloud computing service that gives airlines and business aviation fleet operators the ability to automate their aircraft data acquisition and analysis process for quality assurance, maintenance and health trend monitoring.
Anthem has already been selected by Lilium, the Munich-based electric vertical takeoff and landing (eVTOL) developer, as the cockpit system for its 7-Seater Lilium Jet. Separately, Bristol, U.K.-based Vertical Aerospace will also use Anthem as the cockpit system for their VA-1X all-electric air taxi. Lilium expects to achieve type certification for the 7-Seater by 2023, while Vertical Aerospace is right behind them projecting a 2024 timeline for certification.
During an interview with Avionics International ahead of the unveiling of Anthem, Vipul Gupta, vice president and general manager of Honeywell's avionics division said that the company expects to meet those certification targets. Gupta describes Anthem as a "truly game-changing system."
"Our plan is to connect at Honeywell Forge and make that system very integrated and available for OEMs, for our customers to use. We would also be open to OEMs that may want to choose to connect Anthem to their own cloud system. That will also be feasible with Anthem's [Application Programmable Interfaces] APIs," Gupta said. "The aircraft becomes accessible via the cloud computing infrastructure, and things like maintenance data, flight plans and overall aircraft status are stored automatically by the avionics in the cloud and accessible by any authorized user from anywhere."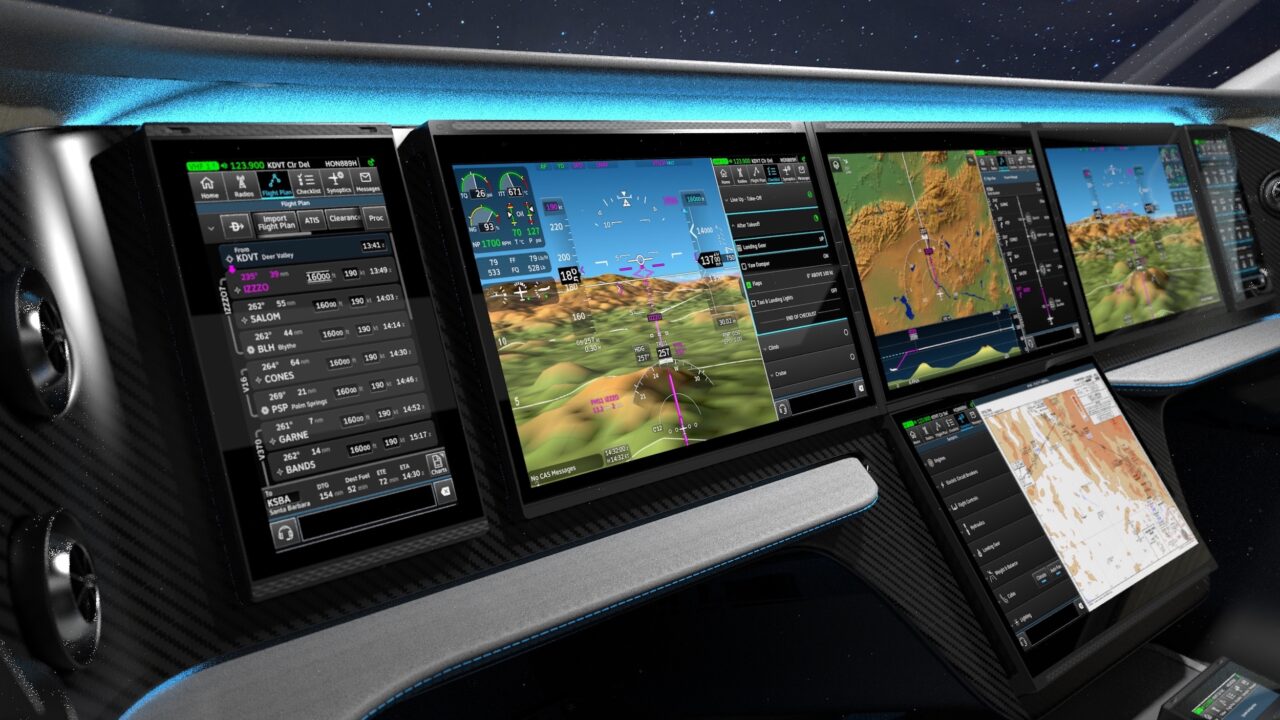 What does cloud-native actually mean? In January, Microsoft published an article entitled "Defining Cloud Native," offering a definition of the term as provided by the Cloud Native Computing Foundation. According to the organization, cloud-native technologies can "empower organizations to build and run scalable applications in modern, dynamic environments such as public, private, and hybrid clouds. Containers, service meshes, microservices, immutable infrastructure, and declarative APIs exemplify this approach."
Another key highlight of the article is its mention of how cloud-native applications are developed with an API-first approach.
"Make everything a service. Assume your code will be consumed by a front-end client, gateway, or another service," Microsoft notes, depicting exactly the type of digital transformation Anthem will bring to next generation aircraft.
Outside of Honeywell Forge cloud itself, a key enabler of the built-in edge-to-cloud architecture of Anthem is its integrated network server unit (INSU) or aircraft data gateway that is embedded into its design. The INSU acts as a connectivity bridge for data flows into and out of the aircraft.
Historically, systems off-board an aircraft has not been integrated with onboard avionics and required wired connections for data transfers, according to Gupta.
"The INSU is our portal or gateway to providing connectivity directly to the flight deck. We're designing it to meet all existing cybersecurity regulatory requirements to Security Assurance Level 3 (SAL 3). INSU provides a connection when you are in air to high-speed SATCOM right or you're in air low speed SATCOM on the ground, potentially through Wi-Fi or on the ground through cellular connectivity. It's just like have a regular cellular chip into this box," Gupta said.
Similar to Forge cloud platform, Honeywell had established the aircraft data gateway as a key cockpit connectivity enabler in recent years. The technology made its debut on the E2 family of Embraer regional jets in the form of the ADG-400. There is also the ADG-300, that Honeywell developed as a drop-in replacement to legacy airborne and portable data loaders such as the Airbus Multi-purpose Disc Drive Unit (MDDU), Boeing's Airborne Data Loader (ADL) and Teledyne's ePDL. It can enable wireless distribution of navigation databases and other field loadable software for on-board loading into avionics systems while also wirelessly capturing and transmitting Flight Operations Quality Assurance (FOQA) data.
This next generation flight deck avionics architecture effectively combines the connectivity and wireless data transfer bridge provided by the aircraft data gateway and the existing cloud infrastructure of Forge to deliver Anthem.
"The cloud connectivity piece, which we are building on with Forge allows us to stage all those databases onto the INSU. That aircraft data gateway can load all those databases from the cloud, such as navigation database, terrain database, and other pieces straight onto the INSU. With Anthem, let's say, when you want to just update the software on the airplane, you can do it from the INSU straight onto the airplane," Gupta said.
In their Oct. 5 announcement unveiling the new Anthem system, Honeywell also claims that their new "always-on cloud-connected avionics" will dramatically reduce pre-flight preparation time for pilots "by ~45 minutes per flight." For most pilots on modern air transport aircraft, pre-flight preparation can consume several hours and usually involves changes that the pilot must make as they get increasingly closer to takeoff and flight environment changes occur.
According to Honeywell, Anthem will enable remote flight planning, meaning, a pilot could be in their hotel room or an airport terminal making flight plan changes that are directly being updated inside the cloud-native Anthem flight management system onboard their aircraft. That direct integration of tablet electronic flight bag applications into the integrated avionics systems is further leveraged once the pilot gets onboard the aircraft and starts flying through the aircraft data gateway.
However, Gupta said with Anthem the flight deck itself has become like an iPad. The system features what Honeywell calls a "secure cockpit browser" that gives pilots the ability to interact with and move between applications similar to the way iPhones and Androids are operated.
"The goal is to actually provide the secure cockpit browser directly onto your front displays. Our goal is to work with our OEM partners to see what kind of applications they want to allow. But overall, the displays have become the secure cockpit browser, allowing Anthem's applications to be running on the ground, while being accessed right there on your displays in the cockpit. You can use that kind of a capability right there on the front displays rather than on your iPad or in combination with your iPad. That's the goal," Gupta said.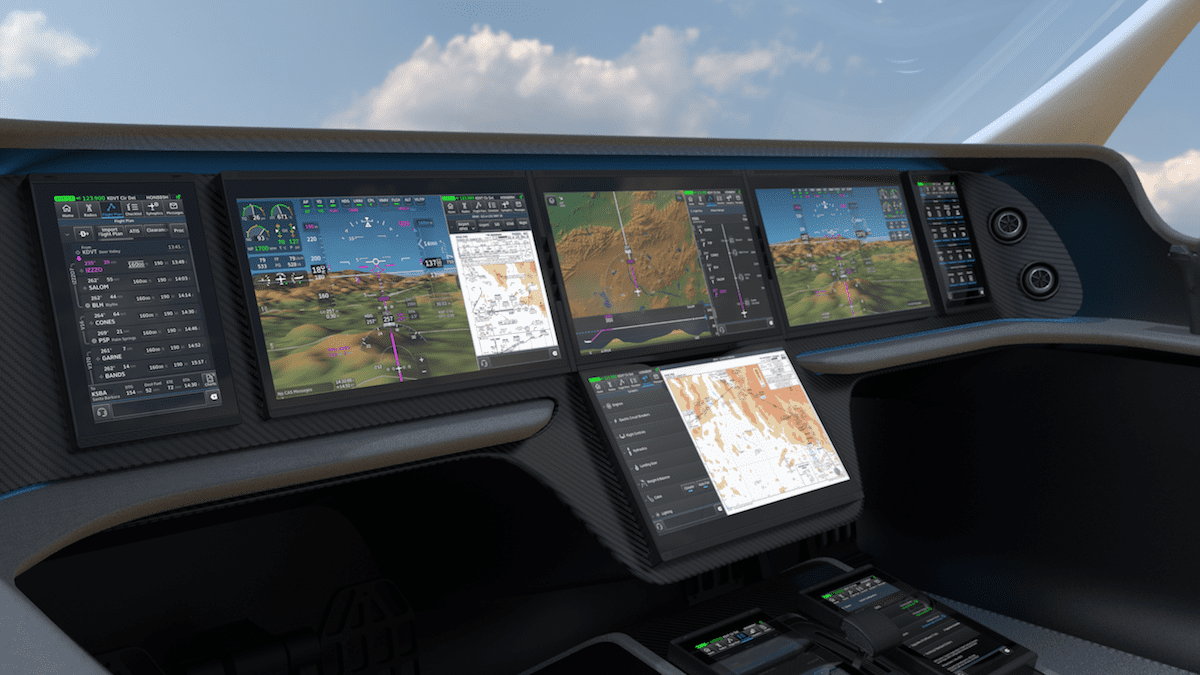 Aside from the embedded connection to Honeywell Forge, or the cloud service of a future aircraft OEM's choice, Gupta said that Anthem is also being developed based on the assumption that most of the aircraft it will be implemented on will feature satellite, air-to-ground or cellular connectivity that is separate from the cloud connectivity of Anthem.
"If you look at most of the larger business aviation airplanes today almost 90 percent of them actually come equipped with high-speed satcom. I can see a time where five years from now, I expect that connectivity is going to become just a standard piece of equipment on the airplane rather than the novelty that it remains today," Gupta said.
Similar to the way that Honeywell was able to adjust and scale Primus Epic to a wide range of air transport aircraft, Anthem is to become scalable as well, but in a different way. Due to its cloud-native status, the same customizable screens and applications available to the most advanced Airbus or Boeing jets is also scalable to smaller Part 23 and general aviation aircraft.
A key element of this scalability is Anthem's smart display screens, where, because of advancements in embedded processing, the screens manage the communication, navigation and surveillance system functionality previously relegated to an aircraft's electric equipment bay.
"We have embedded this processing capability directly into the displays," Gupta said.
There is also a major effort by Honeywell to match the human-machine interface and intuitiveness of manipulating Anthem's screens to match the way most people interact with smartphones. Pilots can customize the layout of the displays remotely from their tablet, and there are also visualization and modern graphical and gesture-based methods, making the aircraft much easier to use.
Anthem will also feature voice activation for some applications. According to Gupta, it's a complete redesign of the human-to-machine interface traditionally featured in avionics systems.
"Our last generation cockpit, Primus Epic, its core architecture was primarily designed more than 20 years ago. The iPad and other tablets or smartphones were not a thing at that time. As you can imagine, right now, our expectation on how we use electronic devices is driven essentially by how we use our tablets, how we use our computers, right. And we have taken some of that experience and brought it into the cockpit," Gupta said.
Receive the latest avionics news right to your inbox
Source: Meet Anthem: Honeywell's First Cloud-Native Cockpit System