The logistics industry is seeing a big opportunity in the future use of drones within their operations. While some companies are targeting last-mile deliveries from businesses to consumers, others are looking towards the often overlooked middle-mile logistics. 
Middle-mile logistics refers to deliveries that occur from business to business such as seaports to a distribution center or distribution centers to stores. 
According to an analysis in a 2020 white paper from Levitate Capital, the value proposition for using drones within logistics chains will have to weigh the speed and availability drones can offer with the cost savings of traditional route density and batched deliveries. While last-mile delivery drones are competing with courier delivery services that will have an advantage in cost savings, middle-mile deliveries will be competing with semi-trucks and intermodal freight networks. 
"Whereas last-mile delivery drones compete with courier-owned delivery vans and crowdsourced delivery models, middle-mile drones will compete with semi-trucks and intermodal freight networks," Dario Constantine, a senior associate at Levitate Capital focused on drone technology companies, writes in "The Future of the Drone Economy."  
The report states that the cost of logistics is dependent on the amount of freight moved at one time. The lowest cost options in this chain are ships and trains and as freight in transferred along its journey, the cost increases as the vehicle that carries it gets smaller. 
"As parcels are transferred to smaller vehicles, the per-mile cost of transportation typically increases –with the most expensive being a single vehicle carrying a single parcel," Constantine writes. "As a result, drones in the near term are likely to be more expensive per kg-mile than fully loaded trucks. However, middle mile drones can reduce the hours of transportation and handoff times associated with trucks and other ground vehicles and transfer the economic value of time savings to the sender and receiver." 
Companies developing drones have taken notice of this trend with some creating aircraft specifically geared towards middle mile operations. Elroy Air is developing a vertical takeoff and landing (VTOL) cargo done, Chaparral, for this sector. 
"The opportunity is to dramatically expand the reach of express logistics, by creating orders of magnitude more aerial cargo routes that can operate to/from locations that would not support air cargo today," David Merril, co-founder and CEO of Elroy Air, told Aviation Today. "The result: bringing same-day shipping to a billion more people worldwide, which improves quality of life." 
Companies who are developing aircraft for this sector are having to distinguish themselves in a crowded field of aircraft by providing capabilities that cater to this sector. 
"A challenge in this industry is distinguishing between the different types of air vehicles," Chris Benson, vice president of corporate strategy at Volansi told Aviation Today. "We aren't delivering cups of coffee down the street, we are delivering dozens of pounds of critical supplies to the next county and, one day, to the next state. On the smaller end, you have small drones that have a lot of autonomy, but are not built for long ranges and ruggedized conditions, this is where you see a lot of the last-mile drone delivery companies. On the larger end of the spectrum, there are manned VTOL aircraft that must be reliable and rugged, just like any traditional manned aircraft, this is where you see the "air taxis". Volansi sits in a unique category between these two, with our focus on autonomy (like the smaller drones) and reliability and capability (like the larger aircraft)."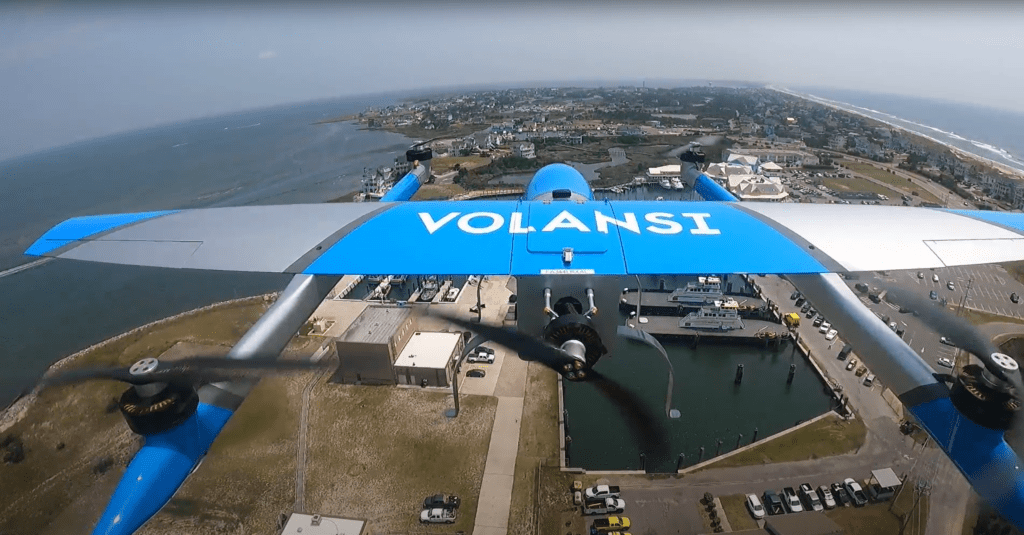 Last-mile delivery drones have smaller payload capacities and shorter ranges than drones being developed for middle-mile logistics. Elroy's Chaparral can carry up to 500 lbs of cargo and has a 300-mile range. The ability to carry more cargo for longer distances increases middle mile drone cost benefits over traditional transportation in this area. 
"The unit economics are challenged for smaller, last-mile delivery drones," Merril said. "They can only make it work delivering extremely high-value parcels (e.g. blood, medical supplies). Also, the barriers to entry are higher in larger systems – we're the leading company focused on VTOL delivery drones for middle-mile, and compared to the crowded last-mile space it's much more difficult for competition to catch up to us." 
These companies are also focusing heavily on autonomy within their operations. The ability to automate operations also contributes to the cost savings of using drones for these operations. 
"In some high-value industries, a delay as short as 10 minutes can cost a company tens or hundreds of thousands of dollars of lost revenue," Benson said. "We can cut that delay through improved access to critical parts and supplies, keeping revenues high. Other customers carry millions of dollars of inventory across dozens or even hundreds of locations. By leveraging our autonomous logistics system, they can reduce their carrying costs of inventory." 
Merril even said that these operations would be easier to automate because of the ability to have more control over take-off and landing sites at businesses rather than a last-mile delivery site. This could make business-to-business drone deliveries more practical as well. 
"Because of positive unit economics, a huge TAM [total addressable market] and the fact that the takeoff and landing zones at the end-points (origin, destination) can be controlled by the shipper, and therefore the operation is much easier to automate safely (vs landing cargo in back yards, on front porches, etc – where everyday people will be interacting with the systems)," Merril said. 
The regulations placed on these operations will likely not be dependent on their use case but rather on where their delivery locations are. Liz Stalford, Volansi's head of aviation regulatory affairs, told Aviation Today that the Federal Aviation Administration is creating type certifications based on performance measures like durability and reliability. These performance measures are adjusted based on the population density at which the aircraft are flying over. So, regulations for these aircraft will depend if the place they are delivering is in a more rural or urban location. 
"If the FedEx Office, for example, is right here in the middle of Bend [Oregan], the population density is the same as delivering to my house," Stalford. "It's the same issue, it's more about population density. So, I would say it's easier to get it for a rural than for increasing population density markers." 
Stalford said there are other factors like detect and avoid capabilities and noise limitations that are still regulatory barriers that the FAA has not created measures of performance for yet. 
While the commercial regulators are defining regulatory requirements, there is also room in the defense industry for these aircraft types. 
"The biggest customer for autonomous aircraft is still the U.S. military," Benson said. "This is due to the unique regulatory environment and need for reliable and ruggedized autonomous aircraft that can deliver real payloads, including both sensing and logistics missions. We see the military being influential in setting the bar for long-range, high-payload autonomous aircraft.  The military requires high levels of reliability, security and safety, which will be necessary in the commercial market when the national airspace system is made more accessible to unmanned aircraft." 
Receive the latest avionics news right to your inbox
Source: Drone Companies See Opportunities in B2B Middle-Mile Logistics