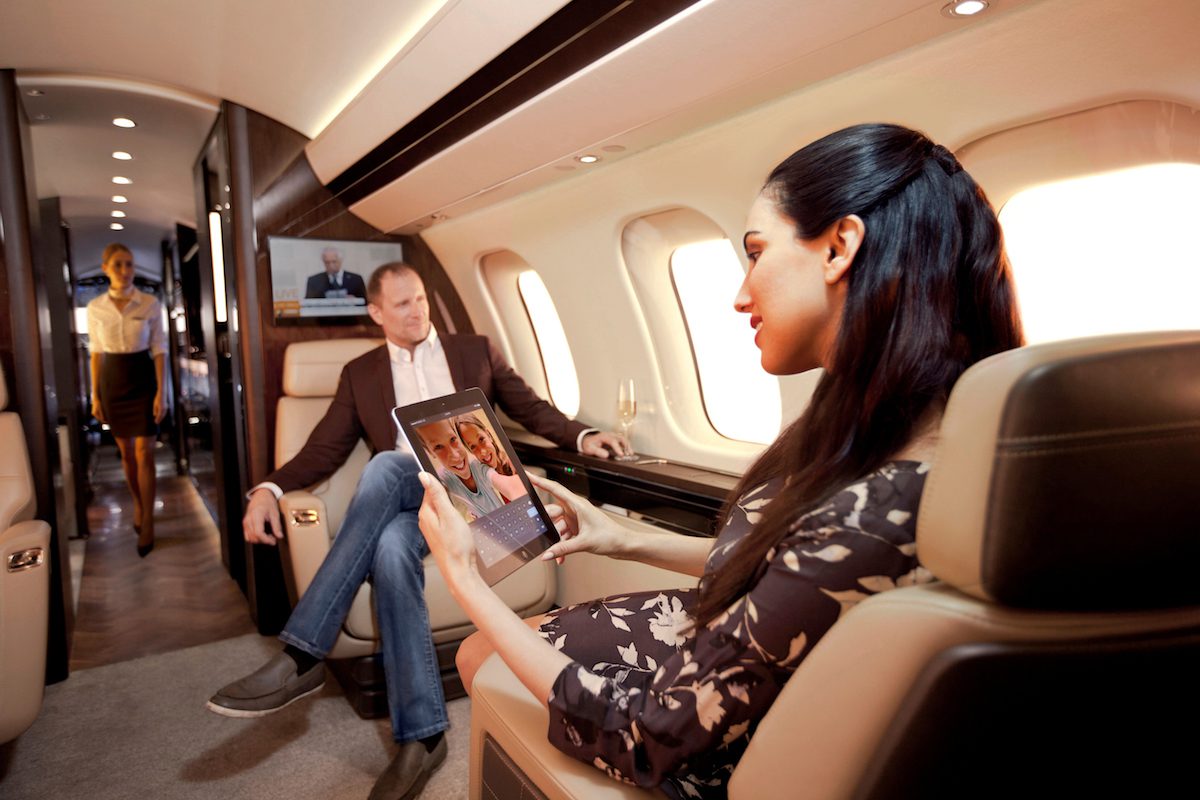 Bombardier has named Collins Aerospace as its new Preferred Service Provider (PSP) for cabin and cockpit connectivity, the two companies announced on the first day of the 2021 National Business Aviation Association (NBAA) conference and exhibition.
Under the new agreement, Collins Aerospace will extend and integrate its flight planning and/aircraft connectivity service management platform ARINCDirect into Bombardier's "digital platform." Bombardier aircraft operators will also have Collins Aerospace available for the end-to-end management of their cockpit and connectivity needs, ranging from "sign up to training, operations and troubleshooting," according to an Oct. 12 press release.
"One of the things that we're looking at doing here is taking the friction out of the experience from the customer perspective. We'll be using our world class tools alongside Bombardier's world class tools, to provide a seamless connectivity experience for all Bombardier customers," LeAnn Ridgeway, Vice President and General Manager of Information Management Systems for Collins Aerospace said during a pre-NBAA media call with reporters.
Collins is also making ARINCDirect representatives available at Bombardier authorized service facilities under the new agreement. The PSP selection is the latest connected aircraft advancement introduced by Bombardier this year, after the business jet manufacturer started offering free Smart Link Plus upgrades to operators of legacy Challenger 300s and 350s.
Smart Link Plus is a health monitoring unit designed to enable a more streamlined process for acquiring and sharing flight data between aircraft systems and maintenance technicians, that is also featured as standard line-fit equipment on Global 7500s as well. With this new agreement, Bombardier customers can use Collins' ARINCDirect to view and manage their in-flight connectivity service subscriptions.
"Since they're usually making many different connectivity related decisions, we believe this creates the 'easy button' for Bombardier customers," Ridgeway said. "They'll still be making that original decision through Bombardier, while we'll be managing the service, and we can create value for Bombardier by simplifying how connectivity solutions are integrated and supported for all their customers."
The PSP agreement comes several weeks after Bombardier unveiled the new Challenger 3500 super-midsized business jet during a Sept. 14 virtual launch event. Jean-Christophe Gallagher, Executive Vice President, Services and Support, and Corporate Strategy, Bombardier said the new agreement will give their customers "impeccable support services" for all of their connectivity needs.
"This new agreement with Collins Aerospace will provide our customers and operators with the cockpit and cabin connectivity solutions they demand and deserve," Gallagher said. "Having the ARINCDirect support team co-located at our Completion Centre, Customer Response Centre and at our service facilities will ensure customers get immediate assistance with their connectivity needs quickly and efficiently."
Source: Bombardier's New Preferred Connectivity Service Provider is Collins Aerospace
23 readers, 1 today