Bombardier unveiled the new Challenger 3500 super-midsized business jet during a Sept. 14 virtual launch event, where the Canadian business jet maker provided details on some of the new model's standard avionics systems to include autothrottle, enhanced vision, and Smart Link Plus.
The 3500 is the latest aircraft model to join the Challenger family, with a range of 3,400 nm, seating for up to 10 passengers, and a top speed of Mach 0.83. Bombardier also included several cockpit and cabin electronics advancements on the latest Challenger that were first debuted on the Global 7500.
According to cockpit system details released by Bombardier, the Challenger 3500 will feature a standard autothrottle system, four cockpit display screens, synthetic vision, and a dual flight management system with Localizer Performance with Vertical Guidance (LPV) and Required Navigation Performance (RNP) approach. There is also a Head-up Display (HUD) with Enhanced Vision System (EVS) cockpit option featured on the 3500.
Smart Link Plus is an all-in-one avionics computer consisting of a remote data concentrator, an airborne data loader, quick access recorder, and cabin/flight deck server that is installed in the Challenger's electric equipment bay to enable the transmission of aircraft data in real-time. Supplied to Bombardier by GE Aviation, the Smart Link Plus box collects, stores and transmits aircraft data such as in-flight fault notifications or engine parameters, and also enables automatic transfer of full flight data to an operator's cloud or ground-based data storage systems on the ground.
The Challenger 3500 joins the Global 7500 as the only two business jets manufactured by Bombardier to feature Smart Link Plus free-of-charge, while the company is still providing free aftermarket Smart Link upgrades to operators of legacy Challengers and Learjets at authorized service centers.
"Its flight deck has more baseline features than any of its competitors," Bombardier CEO Eric Martel said during the virtual launch event. "All the features of the Challenger 350 cockpit plus a standard autothrottle system."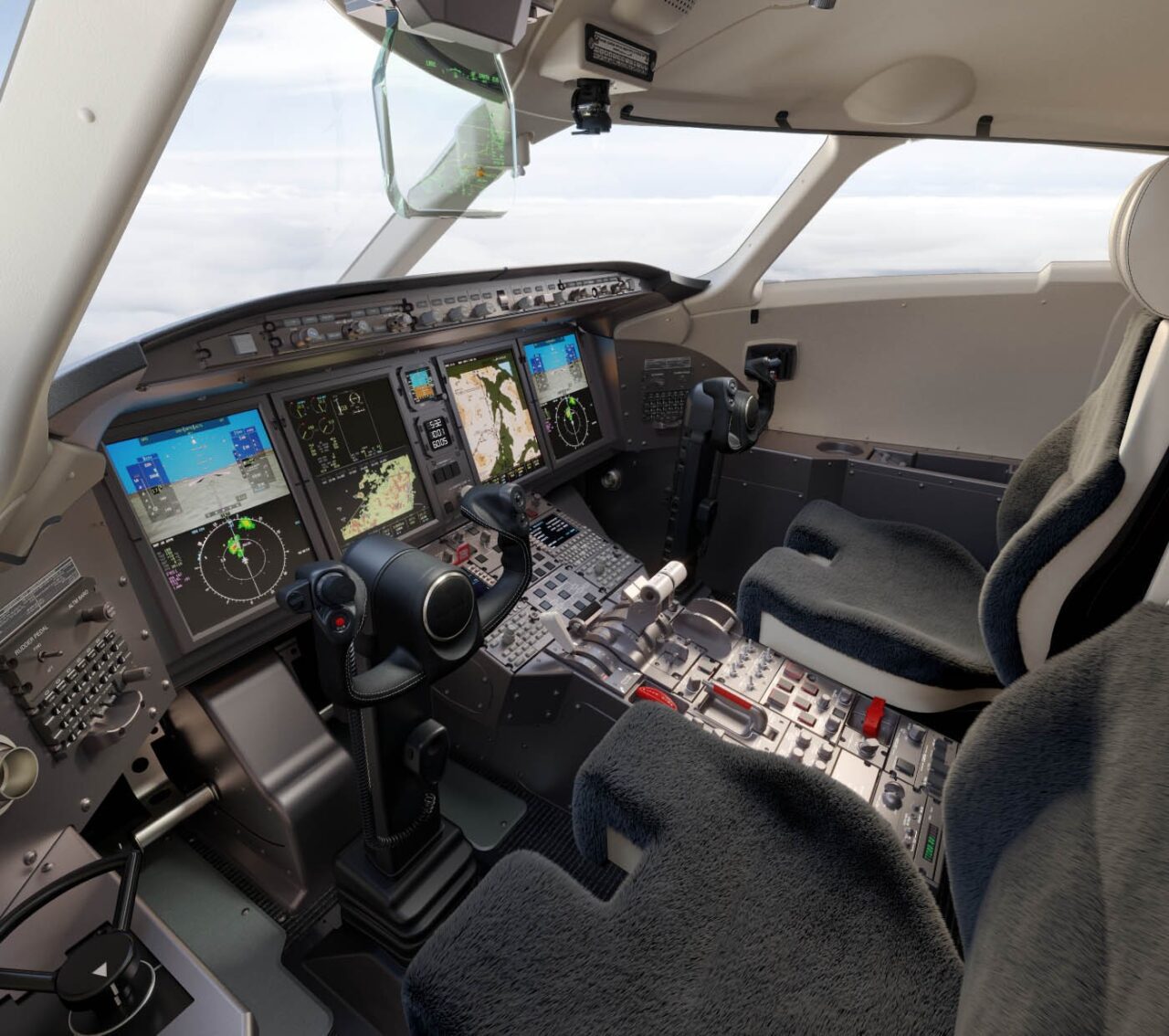 Pilots will also have access to what Bombardier describes as an "eco app" developed by SITA that is designed to "specifically optimize flight plans and reduce fuel burn" by using SITA's existing eWAS Pilot with OptiFlight. SITA describes its EFB Weather Awareness Solution (eWAS) as a cloud-hosted tablet application that gives pilots access to turbulence alerting, areas of icing, and other flight environment conditions. On the Challenger 3500, the eWAS app will use data captured from the Smart Link Plus system.
Some of the cabin technologies that launched on the Global 7500 are also being transferred to the Challenger 3500, including a voice-controlled cabin management system for lighting, sound and temperature, wireless charging pads, and standard 24-inch 4K displays. Martel also described the cabin's "audio sweet spot," a feature also transferred from the Global 7500 cabin.
"Our immersive sound system offers an audio sweet spot that lets passengers center the sound of their precise location in the cabin," Martel said.
Challenger 3500 operators flying in North America, North Atlantic, and European airspace will have access to Ka-band in-flight connectivity, while those in the continental U.S. and parts of Canada will also have the option to select 4G air-to-ground IFC, according to cabin specifications released by Bombardier.
"The cabin features the only 24-inch 4K monitors in its class. And available connectivity options to stream content, join a video conference, or watch a live sports event," Martel said.
With an eye toward being increasingly transparent about achieving sustainability goals, the Challenger 3500 is the second full aircraft that Bombardier will mark with Environmental Product Declaration (EPD)—a third-party verification method of disclosing environmental performance data, such as CO2 emissions, noise and fuel burn over the course of aircraft's product lifecycle. Challenger 3500's flight testing campaign will also be carbon neutral, achieved through the use of Sustainable Aviation Fuel and the purchase of carbon offsets.
Bombardier expects its newest business jet to be ready for entry into service by the second half of 2022. Les Goldberg, CEO of Entertainment Technology Partners, was confirmed as the launch partner of the 3500 during the virtual launch event.
Source: Bombardier's New Challenger 3500 Features Autothrottle, Smart Link Plus and Voice Activated Cabin System