Ballistic Missiles and Beauty Queens on Alert as Ukrainian War Enters Day Four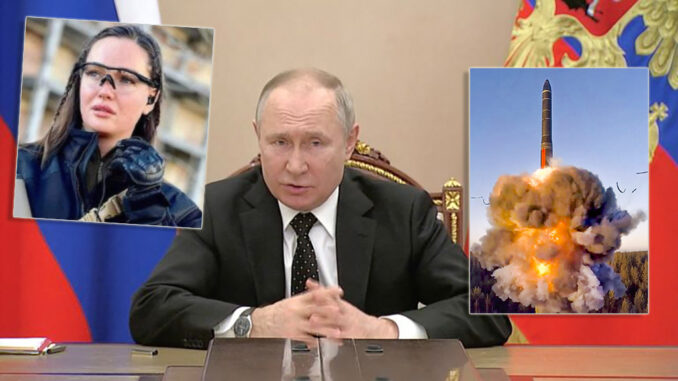 Ukraine Agrees to Talks with Russia, Nuclear Forces on Alert, Snake Island Prisoners Alive, Miss Ukraine Joins Battle, and More.
After four days of combat in Ukraine, reports that Russian losses could be mounting at the same time fighting has erupted in two key cities, Kyiv and Kharkiv, continue the theme of contradictory information coming out of the region. But early Sunday morning U.S. time, hope of negotiations between Russia and Ukraine have officially surfaced.
This news contrasts with additional reports on Sunday morning that, "Putin orders nuclear forces on high alert".
What is this "special mode of combat duty of the deterrence forces"? Hard to tell with certainty, but most likely it means that the nuclear command and control system received what is known as a preliminary command https://t.co/uQwfWNyCX6 1/8

— Pavel Podvig (@russianforces) February 27, 2022
Reports on Sunday morning, February 7, 2022, said that an official statement from Ukraine confirms that, "Ukrainian President Volodymyr Zelenskyy said he spoke with Belarus President Alexander Lukashenko and agreed to meet with Russians, 'without preconditions'." The new announcement follows prior announcements that the Ukrainian President would not attend negotiations in Belarus.
Reports also published across international news media on Sunday morning said that Russian President Vladimir Putin has placed Russian nuclear forces on alert as a result of "aggressive statements" from NATO members.
But even as the first hope for moderation in the conflict emerges, sensational stories from the war continue.
One of these stories surrounds the beleaguered garrison on a place called "Snake Island". New reports suggest the sensational desperate last stand of Ukrainian soldiers at a place called "Snake Island", may have been embellished or false.
Initial reports that a group of Ukrainian soldiers fought to the death against a Russian warship on Snake Island went viral on both social media and in mainstream news outlets. But early this morning, both Russian state media and the credible U.S. news outlet, The Washington Post, report that the besieged Ukrainian garrison from Snake Island is alive and surrendered to Russian forces.
A statement from the Ukrainian State Border Guard Service says the men seen in the viral Snake Island video are alive. The Jerusalem Post also reported the soldiers on Snake Island were alive, and had surrendered to Russian Forces. Photos published later show a group of uniformed men, claimed to be the Snake Island garrison, disembarking from a ship after their surrender.
According to a February 27, 2022 report by Jerusalem Post staff, "The 13 Ukrainian soldiers were reportedly killed in a last stand on Snake Island in the Black Sea against Russian forces on Friday after sending a defiant message to the Russian ship may still be alive, the Ukrainian State Border Guard Service said on Sunday."
The story went on to report that, "In a video that became viral, the soldiers were recorded telling the Russian warship to "go fitself" before being bombarded. The SBGSU and the Armed Forces, like the whole of Ukraine, have received hope that all of Zmiiny's defenders are alive," the Service wrote on its Facebook page, using the island's official name."
The identity of the group of soldiers seen in Russian media has not been independently verified in western media.
Contradictory reports about Russian troops entering the capital city of Kyiv are also surfacing as mass media becomes increasingly weaponized in the Ukraine. Kyiv's mayor, Vitali Klitschko, said in a report to the BBC World News that, "There are no Russian troops in the city". But in the same report, the mayor went on to tell the BBC that, "Military, law enforcement and territorial defense" officials were continuing to "detect and neutralize saboteurs".
Meanwhile, chilling video of (claimed) Russian troops maneuvering on foot into the urban areas of Kyiv was also seen across social media. The videos showed Russian troops dismounting from light armored vehicles and moving into positions of cover and concealment amongst buildings said to be in Kyiv.
On the social media front, Ukrainians got a morale boost when reports surfaced that, "Miss Ukraine, Anastasiia Lenna, has joined the fight". Journalist Brian Stone wrote that, "Putin's pageantry of war has met its match" in a Facebook post where he reported that Lenna had taken up arms against the Russian invaders. The New York Post reported that, "A beauty queen and former Miss Grand Ukraine has apparently traded in her high heels for combat boots, joining the Ukrainian military in its push against the Russian invasion. Anastasiia Lenna, Ukraine's 2015 representative in the Miss Grand International beauty contest, has answered the call to defend her home."
Let me introduce you to Miss Ukraine Anastasiia Lenna. Ukraine has 36,000 women serving in the military. The most women of any military. #UkraineWar #UkraineUnderAttack pic.twitter.com/EvLF40GSWC

— Bob Ossowski (@backwoodsbob1) February 26, 2022
But as the war in Ukraine enters its fourth day, the only thing that remains completely clear is that, despite ballistic missiles and beauty queens, the fighting continues.
Tom Demerly is a feature writer, journalist, photographer and editorialist who has written articles that are published around the world on TheAviationist.com, TACAIRNET.com, Outside magazine, Business Insider, We Are The Mighty, The Dearborn Press & Guide, National Interest, Russia's government media outlet Sputnik, and many other publications. Demerly studied journalism at Henry Ford College in Dearborn, Michigan. Tom Demerly served in an intelligence gathering unit as a member of the U.S. Army and Michigan National Guard. His military experience includes being Honor Graduate from the U.S. Army Infantry School at Ft. Benning, Georgia (Cycle C-6-1) and as a Scout Observer in a reconnaissance unit, Company "F", 425th INF (RANGER/AIRBORNE), Long Range Surveillance Unit (LRSU). Demerly is an experienced parachutist, holds advanced SCUBA certifications, has climbed the highest mountains on three continents and visited all seven continents and has flown several types of light aircraft.
Source: Ballistic Missiles and Beauty Queens on Alert as Ukrainian War Enters Day Four