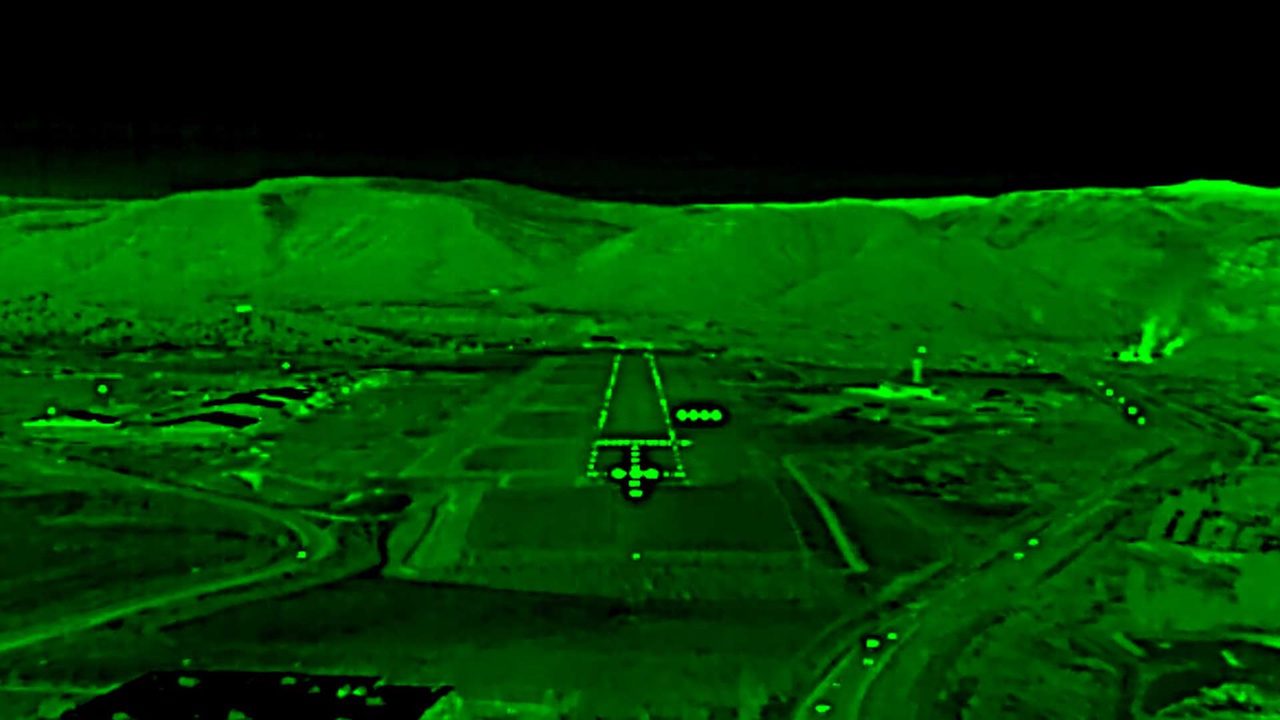 Airbus is developing a new enhanced flight vision system (EFVS) for its A320 family of aircraft, that will eventually be adapted to other models, representatives from the aircraft manufacturer's headquarters in Toulouse have confirmed with Avionics International.
Development of the new system took a step forward in August, with the selection of a next-generation enhanced vision sensor to be supplied to Airbus by Collins Aerospace. The EFVS currently under development consists of the sensor, a multi-special camera system, head-up display (HUD), and cockpit controls, and eventually could be adapted to other Airbus aircraft models in addition to the A320.
Thales will be supplying the HUD where the vision system image symbology will be displayed, with Airbus handling integration into the A320.
"The EVS sensor will be part of a more global EFVS concept of operations that will be optional for A320 models on top of the Head-Up Display (HUD) option already available for all Airbus aircraft. This EFVS capability may be deployed on other Airbus aircraft. Airbus has planned to offer EFVS on production aircraft but also to propose a retrofit solution for in-service aircraft," a representative for Airbus told Avionics.
The introduction of the new system as an option for A320s marks the latest advancement in vision systems and cockpit display development at Airbus. The A320's first head-up display system was certified in 2005 in a single configuration, and 10 years later in 2015 in a dual configuration. Several years later, a harmonized primary flight display that allows head-up display symbology to be displayed on a primary flight display—or head-down display—achieved regulatory certification in 2018.
Civil aviation regulatory policy updates over the last decade have also provided incentives for more business and commercial operators to consider adopting EFVS technology, including the EFVS rule FAR 91.176 first enacted by the FAA in December 2016 that allowed business jet pilots to start using EFVS to land their aircraft down to touchdown and rollout. Other more recent regulatory developments from the FAA have also signaled that this was the right time for Airbus to introduce a new vision system option for airlines flying the A320.
"National authorities such as CAAC or FAA, are regularly issuing new documentation related to the use of Vision systems. CAAC issued a HUD Roadmap mentioning EFVS in 2012. FAA has just drafted [Advisory Circular] AC 20-167B which provides guidance for gaining airworthiness approval of EFVS. More and more customers are interested in Vision systems and new technology like EFVS. Airbus has considered it is the right moment to launch EFVS development," the representative for Airbus said.
FAA's publishing of AC 20-167B notes that the guidance developed by the agency for installing an EFVS is primarily intended for Part 25 aircraft, although it is also applicable to Part 23, 27, and 29 category aircraft. While the new guidance is awaiting publicly submitted comments, the agency is also encouraging EFVS installation applicants to "propose alternative methods to their Aircraft Certification Office (ACO) to integrate new and novel safety-enhancing vision system functions into their aircraft."
The agency defines an EFVS as an installed aircraft system that uses a "HUD or equivalent display to present aircraft information, flight symbology and electronic real-time sensor image of the forward external scene."
Operationally, the use of the new vision system could provide several navigation enhancements to A320 pilots.
"Flying with EFVS will provide greatly improved situational awareness for pilots. During night approaches, the system will allow the flight crew to better perceive potential threats like obstacles, terrain, and airport environment. Together with the HUD symbology, it will give additional confidence to the crew about their aiming point," the representative for Airbus said. "On top, EFVS function will provide operational credit to airlines by enabling flight crew to dispatch, start the approach and land in visibility that would usually prevent the operation. EFVS will actually be used as a supplement to the pilot vision by providing landing reference cues where pilots cannot see with their eyes."
In an Aug. 10 press release announcing the Airbus selection of its EVS sensor for the A320, Collins Aerospace describes how the sensor will be mounted on the nose of the aircraft and use multiple infrared and visible light cameras to create an augmented reality view of the outside world. Night visual meteorological conditions as well as lateral alignment on the runway are among other navigation improvements noted by Collins.
"Airbus operators who adopt EFVS will enjoy a competitive advantage that directly translates into improved on-time performance, operational cost and fuel savings," Dave Nieuwsma, president of avionics for Collins Aerospace said in the release.
Airbus has not yet provided a timeline or indicated when the EFVS system will become available for in-production A320s, however, Airbus plans to reveal more information about their vision systems technological roadmap during the upcoming Aerospace Tech Week event in Toulouse.
Source: Airbus is Developing a New Enhanced Flight Vision System Option for A320s