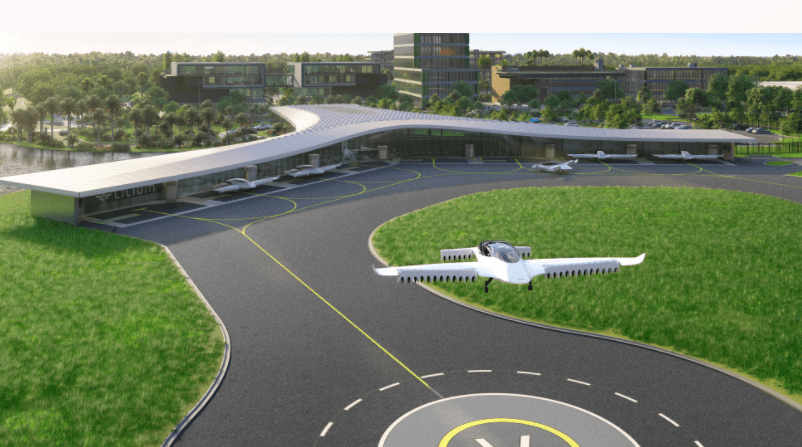 Electric air taxis are aiming to fill a gap in the current mobility network with flexibility similar to cars combined with the time savings of air travel. However, unlike a car, air taxis won't be able to depart and arrive from just anywhere, and unlike traditional aircraft, only using traditional airports will hamstring air taxi capabilities. 
For these reasons, electric air taxi companies are starting to develop plans and partnerships to create infrastructure for the unique needs of electric vertical takeoff and landing aircraft (eVTOL). While the necessity of eVTOL infrastructure is not a point of contention, the locations and operational uses are still up for debate. 
A 2021 report on urban air mobility (UAM) from the European Union Aviation Safety Agency (EASA) found that infrastructure was cited as the biggest challenge for UAM. This infrastructure—most commonly referred to as vertiports in the industry—will be required for initial operations of UAM passenger transport. According to EASA, the most important aspects of vertiports will be their accessibility and electricity infrastructure connection. 
"Dedicated infrastructure is required for the initial operation of UAM passenger transport," the report states. "'Vertiports' that enable takeoff and landing of air taxis, will probably appear in different sizes and numbers in different cities, depending on expected traffic volumes. Two important factors for determining vertiport locations will be ease of access, as well as electricity and infrastructure connection."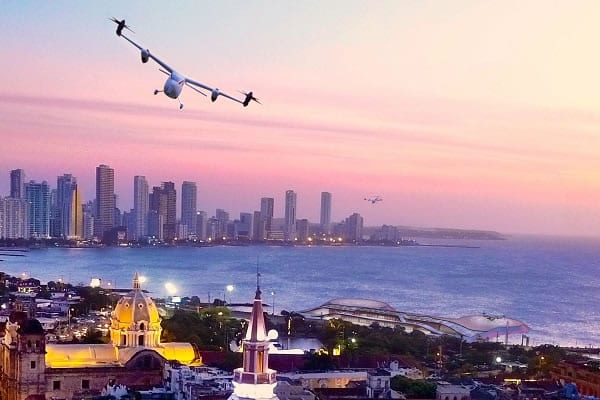 Varon Vehicles has decided to look at UAM as mobility infrastructure instead of designing its own aircraft, Felipe Varon, founder and CEO of Varon Vehicles, told Aviation Today. 
"Our approach is not to see UAM as aviation – we use (nextgen) aviation, but our focus is on mobility infrastructure…We see the entire UAM operation as a new form of mobility infrastructure, comparable to roads, train systems, metro systems, cable cars, etc., but with a potential for disruption because we will have no cost-per-mile, so we can approach customers and governments in an entirely different way to generate connections, to serve different markets in pressing need for connection," Varon said. 
The location of vertiports will be an important consideration for air taxis to be an effective part of a city's mobility infrastructure. Varon said his company is using requirements from customers to predict vertiport locations. For example, vertiports to service tourists could be centrally located near a hotel. Although this seems self-explanatory, Varon said it has been the most challenging aspect. 
"The biggest challenge in creating vertiports is matching the idea of a vertiport with a real, down to earth, business operation," Varon said. "That is absolutely not trivial and we've taken years to reach this point. Vertiport placement is complex, land allocation is not simple or cheap, we have to consider the mobility interconnection aspect of it and the airspace side of it. And then match this to an operating business case. Not an easy task." 
The exact location of the vertiports will be tied to customers' requirements but these vertiports will also be connected to form a network. Lilium, the eVTOL company developing the 7-Seater Jet, has already announced that it intends to create a regional network in Florida that would provide 1,200 miles of connectivity. 
"We are planning on developing our first US regional network in Florida, in partnership with Tavistock and Ferrovial, who share our vision of fast, sustainable travel," a Lilium spokesperson told Aviation Today. "We have a planned network of 14 vertiports across Florida and project approximately 1,200 miles of connectivity…We've been working on a lean, modular design that will help make vertiports accessible to developers large and small." 
Archer, the developer of Maker, created a data-tracking technology to pinpoint advantageous locations for its vertiports. 
"We're using Prime Radiant, Archer's data tracking technology, to determine optimal takeoff and landing locations and routes that we can put into action as soon as our UAM networks launch," Brett Adcock, Archer's co-founder, told Aviation Today. "Prime Radiant was developed to work in real-time in response to conditions and demand on the ground by tracking ground traffic and congestion relative to vertiport locations, allowing Archer's eVTOL aircraft to hone in on those areas and meet demand where it's most prevalent." 
Deciding on the location of eVTOL infrastructure will also have to take into account if companies want to repurpose existing infrastructure or build a completely new structure. Wisk, the maker of Cora, is focusing on the development of its aircraft which it will launch using existing infrastructure. 
"eVTOL infrastructure is currently in the exploratory phase of development," a spokesperson from Wisk told Aviation Today. "While some companies have shown initial vertiport concepts, many OEMs, including Wisk, are focused on the certification of their aircraft. Specifically, at Wisk, we intend to focus on existing infrastructure for our initial launch of services. We believe this is a more efficient and environmentally conscious approach." 
Other companies, like Lilium, are looking towards a combination of new and existing infrastructure. Besides its operations in Flordia, Lilium will also be conducting operations at airports in Germany. 
"We have also announced our intention to set up future hubs with a number of German airports, including Cologne/Bonn, Düsseldorf, Munich and Nuremberg," Lilium's spokesperson said. 
Existing infrastructure can be locations like airports, however, eVTOLs will also be able to utilize existing buildings by converting their rooftops to vertiports. Archer announced a new partnership with REEF Technologies on Aug. 24 to do just that. 
"Our partnership with REEF Technologies to further expand our plans for urban takeoff and landing sites is emblematic of these overall efforts," Adcock said. "Broadly, we're open to utilizing all existing infrastructure — from parking garages, to hotels, to high-rise rooftops, and beyond — that can be retrofitted to support our vehicles for takeoff and landing, so as to minimize the amount of new construction required to support a robust UAM network." 
REEF has a network of over 4,800 parking garages that cover 70 percent of North America's urban population, according to the release. Archer will use its Prime Radiant technology to determine optimal locations within REEFs existing network.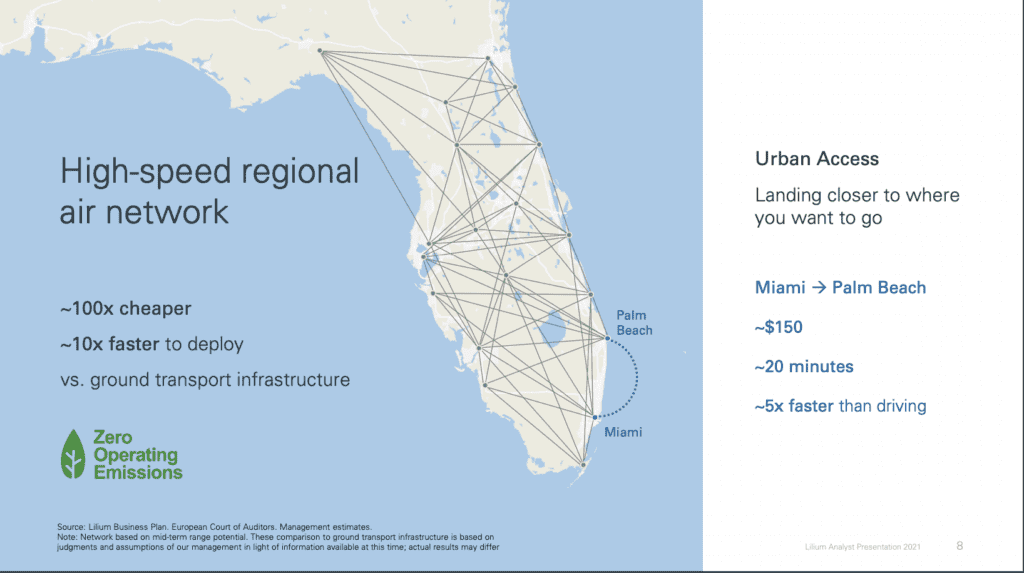 The infrastructure for eVTOLs will have requirements that fit into two categories: consumer needs and aircraft needs. The consumers will need places to park. The aircraft will require charging infrastructure and air traffic control technology. 
"Whether a Vertiport is designed to facilitate 20 flights per day or 20 flights per hour, it will have three common ingredients: a take-off area, parking stands and a terminal," the Lilium spokesperson said. "It will also need high-power charging equipment, air traffic control technology for high throughput operations and digital check-in tools, but we're working with system suppliers and industry committees to bundle this equipment into standardized 'plug-and-play' solutions allowing the sector to scale more rapidly." 
There is also a possibility for vertiports to become becomes hubs. Varon's operations will include the vertiports themselves, an airspace architecture linking the vertiports, and the eVTOL fleets operating from the vertiports. While the vertiports will provide takeoff and landing infrastructure for aircraft, the company also imagines them eventually functioning as a large mobility hub. 
"We are starting in Colombia and have chosen the city of Cartagena for first implementation, with rapid expansion plans to other regions of Colombia and Latin America," Varon said. "Our Vertiports are quite advanced in conceptualization and general design. But initial Vertiports will not be huge mobility hubs, we will get there eventually, more towards the second half or end of this decade." 
Vertiports can be mobility hubs by allowing access to other transportation services, however, they can also be strategically placed for other purposes. 
"Vertiports can be placed at an existing transport terminal, next to a shopping center, on top of a busy car park or alongside a suburban residential development," Lilium's spokesperson said. 
Currently, there are no eVTOL aircraft that have been given certification from the FAA or EASA and while companies are working on finalizing those certifications, it appears they are in the planning phase. Lilium is working on its concept of operations. 
"The concept of traffic corridors is something that has been included in a couple of future Concept of Operations (ConOps) studies – the majority of which are focused on urban air mobility and connecting landing sites within densely populated cities," the Lilium spokesperson said. "Eventually, we will need to work out how to transition from the traditional services when flying en-route to any new system/destination located within a city.  It will be important to have a seamless and coordinated transition between any two future systems."
Varon Vehicles is also working on planning, however, they are also looking at factors outside of technology development like public acceptance. 
"We are running plans for implementation of our first operation at this moment, start of operation is not dependent on technology but rather on other factors like public acceptance and also the pandemic situation and the Tourism market's pickup," Varon said. 
Companies like Wisk are hoping that public acceptance be tied to the value eVTOLs could add to local communities. Wisk is looking at the development of infrastructure from a multifaceted approach. 
"The development of infrastructure to support future eVTOL air taxi services is multifaceted and includes both the repurposing of existing infrastructure, as well as the development of new, bespoke "vertiports." Both of these approaches present similar opportunities in several key areas from community engagement and social acceptance (zoning and permitting), to airspace integration (procedures and coordination), to energy grid and storage solutions," Wisk's spokesperson said. "Much like the development of eVTOL aircraft, the development of eVTOL infrastructure – if done responsibly – will add value while seamlessly integrating into local communities." 
While eVTOL companies are already planning and developing future infrastructure, they won't be able to complete this task alone. 
"However, it is important to recognize that to achieve scale, regulatory bodies (like the FAA, city and municipal governments, and others) must begin to take an active role in the development and repurposing of infrastructure," Wisk's spokesperson said. "This will ensure that new and existing infrastructure aligns with industry-wide standards, resulting in future air taxi services that are equitable and accessible for all." 
On this issue, the U.S. Federal Aviation Administration (FAA) said it will be adjusting existing rules to meet the bespoke needs of eVTOLs. 
"The flexibility in the FAA's regulatory framework enables us to tailor existing rules to determine certification requirements for various aspects of eVTOLs," the FAA told Aviation Today in a statement. "In some cases, the agency could issue special conditions or additional airworthiness criteria, depending on the type of project." 
Most of these companies say their infrastructure will launch when their aircraft do, which for some could be as early as 2024. 
Receive the latest avionics news right to your inbox
Source: Air Taxi Companies Ramp Up Infrastructure Plans as Aircraft Certification Looms