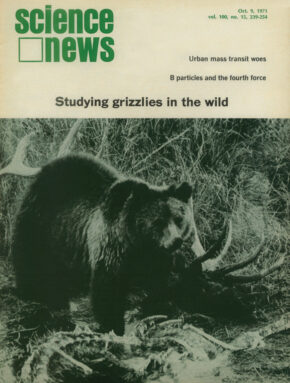 Probing pharaohs with X-rays — Science News, October 9, 1971
The 29 mummies of pharaohs and queens were examined without disturbing their present positions.… [Researchers using portable X-ray equipment] found evidence of rheumatoid inflammation of the vertebrae of Amenophis II, ruler of Egypt from 1436 to 1413 B.C…. [A queen] was buried with what was thought to be her mummified infant. But radiography of the object confirmed its identification as a mummified adolescent baboon.
Update
Scientists now investigate Egyptian mummies with advanced imaging devices that were unavailable in 1971. Micro-CT scans and virtual reality models have provided detailed life history and embalming information about three animal mummies — a cat, a bird and a snake (SN: 9/12/20, p. 17). 3-D printing has enabled scientists to reconstruct the vocal tract and simulate the voice of a 3,000-year-old mummified priest (SN: 2/15/20, p. 14). And infrared scanners have revealed tattoos on seven mummies dating to about 3,000 years ago (SN: 12/21/19 & 1/4/20, p. 8).
From the Nature Index
Paid Content
Source: 50 years ago, X-rays revealed what ancient Egyptians kept under wraps