Local Filmmaker To Premiere His New Family Film, "YOU LIKE TO DRAW?" SEPTEMBER 11, 2021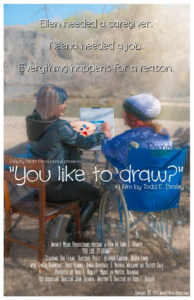 FOR IMMEDIATE RELEASE: Local filmmaker, Todd E. Braley, is premiering his locally made family film "YOU LIKE TO DRAW?" September 11th, 2021, 7:00 pm at the Salvation Army Grand Junction Corps on N. 4th Street in Grand Junction, Colorado.
This dramatic film was filmed in August of 2020 with a primarily female cast. Starring local talent Brii Frank, Rose Bonino, and Mariah Ellen Griffith, as well as well-known talent Debra Lamb (Robocop), Trista Robinson (Echos of Fear) from California, and Rhonda Williams (Central Intelligence) from Alabama.
The film follows a brain-injured artist, Ellen, who has lost her passion for painting due to a car accident. Her overbearing mother, Nancy, hires a new caregiver, Neena, and they form a tight bond, and they both teach each other lessons in life.
The film was written, produced, and directed by Todd E. Braley and filmed by local cinematographer Scot Stewart and local film crew members.
The premiere is free and will start at 7:00 pm. It is a semi-formal gathering, so appropriate attire is required.
Braley is happy to create films in a city where he's called home since 1999 and has been making films/commercials/tv & web series in the Grand Valley since then.
—————————————————————-
We invite members of the local press to attend. If you would like an interview before the premiere date, Please email Todd Braley at the above email address or call 970-778-1825
Infinity Media Productions