FOR IMMEDIATE RELEASE
James Clark, Publicist at Clark Public Relations & Consulting LLC
(816) 654-5555
[email protected]
The Man Who Hacked the World
A Ghostwriter's Descent into Madness with John McAfee
09/02/2022 – The Man Who Hacked the World: A Ghostwriter's Descent into Madness with John McAfee is set to release on November 15th, 2022, and is available for pre-order.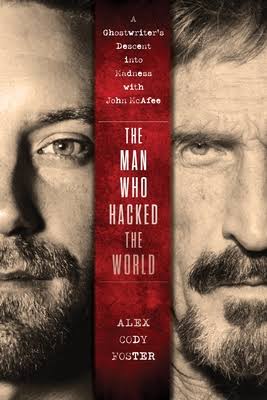 Having spent more time with John McAfee than any other writer or media representative, Alex Cody Foster has an incomparable story of how he met McAfee, where their adventures took them, and what precipitated McAfee's death.
From investing in cybersecurity and cryptocurrency to accusations of murdering his neighbor in Belize to making two unsuccessful bids for President of the United States—the latter attempt done in exile following a federal indictment—the larger-than-life McAfee nurtured a rakish public profile while evading law enforcement for his involvement with drugs, weapons, and murder.
"Call it truth. Call it secrets. This is a dangerous man." Is McAfee a successful entrepreneur who went mad and killed his neighbor? Or is there more to the story? In 2021 it was reported that McAfee had hung himself in a Spanish jail. Now people are speculating whether the rogue entrepreneur is still alive after his Belizean ex-girlfriend Samantha Herrera made the following statement:
"I don't know if I should say, but two weeks ago, after his death, I got a call from Texas: 'It's me, John. I paid off people to pretend that I am dead, but I am not dead.'"
Dead or alive? The mystery continues to both baffle and intrigue.
Running with the Devil Netflix documentary
Running with the Devil is a first-hand account of the escapades of a notorious tech mogul making global waves.
John McAfee was an internet pioneer, presidential candidate, and probable madman, creator of the eponymous antivirus software. His career began with NASA before he developed his namesake software, McAfee antivirus, in the late 1980s. Estimated to hold a net worth of approximately $100 million at the peak of his career, McAfee stepped away from his thriving company in 1994.
There began his twisting descent from tech mogul to what some would describe as a paranoid madman. McAfee's life was consumed with mystery, violence, espionage, and an insatiable thirst for power.
Passionate about controlling his visibility in the media, McAfee hired Alex Cody Foster to write his biography in 2018. Foster traveled across America and Europe with McAfee for over six months, occasionally going on the run to evade purported killers and kidnappers.
Described as "James Bond meets Scarface with a little Indiana Jones," we can gain an intimate insight into the escapades of McAfee in the current hit Netflix documentary titled Running with the Devil: The Wild World of John McAfee.
Sitting high on the Netflix Top 10 List since release and having captured the profound and wild truth behind The Man Who Hacked the World, the life of McAfee is ensnaring minds on an international level.
About

Alex Cody Foster
Alex is a #1 Bestselling Ghostwriter and author of The Man Who Hacked the World: A Ghostwriter's Descent into Madness with John McAfee.
Foster has ghostwritten eight #1 Amazon Bestsellers, wrote for one of the U.K.'S most successful thriller writers, and worked closely with John McAfee for six months. It can be said that no other media professional has had such intimate insight into McAfee's life as he did.
Ghostwriting University
Foster founded the Ghostwriting University, passionate about capturing the true essence of a story and teaching writers how to get paid to do what they love. Inside the university, Alex Cody Foster dives deep into his biggest failures and his greatest successes as a highly sought-after ghostwriter.
Ghostwriting University is for you if you've ever dreamed of getting paid to write. Learn how to successfully pitch clients, negotiate contracts, and get paid what you're worth.
Alex has over a decade of experience as a professional ghostwriter who has worked with clients in various industries, including business, self-help, memoir, and fiction. He knows what it takes to be a successful ghostwriter and is excited to share his knowledge with the next generation of writers.
###
Ghostwriting University is designed to show writers how to turn their words into profits. To learn more, visit Ghostwriting University.