Top Luxury Residences in Miami's Sofi District
The Miami SoFi enclave is a small affluent neighborhood situated on the southern tip of Miami Beach — beginning at South Pointe Park to 5th Street, from east to west. Surrounded by the Atlantic Ocean and Biscayne Bay, SoFi is known as an exclusive urban sanctuary.
As one of the most sought-after neighborhoods in Miami Beach, it is no surprise that SoFi is home to some of the most luxurious condo towers in South Florida. A few of the ultra-high-end luxury condos in South of Fifth include Continuum South Beach, Apogee South Beach, Murano Grande and Murano Portofino
South of Fifth is also home to some of the most historic restaurants, beautiful oceanfront hotels and youthful hotspots.
Those who settle in SoFi have the best of many worlds: an elite neighborhood, ocean views from residence windows, and a sense of sanctuary, yet always with a SoFi Joie de Vivre.
Apogee South Beach
Apogee Building is an aptly named Miami Beach, South of Fifth (SoFi) condo development, as its meaning underscores the vision of the Condo itself. An Apogee is the highest point, a climax in the development of a project.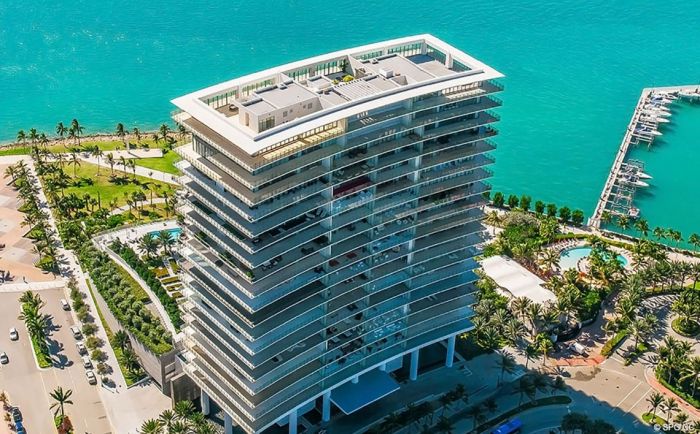 Apogee, South Beach – By The Related Group
In this case, Apogee defines a high-end, luxury lifestyle condo development – located at the southern end of South Beach.  The 67 three- and four-bedroom units, on 22 floors, with exceptional penthouses, overlook Biscayne Bay and the Atlantic Ocean. At Apogee, there is a privileged quality that combines with the latest residential technologies.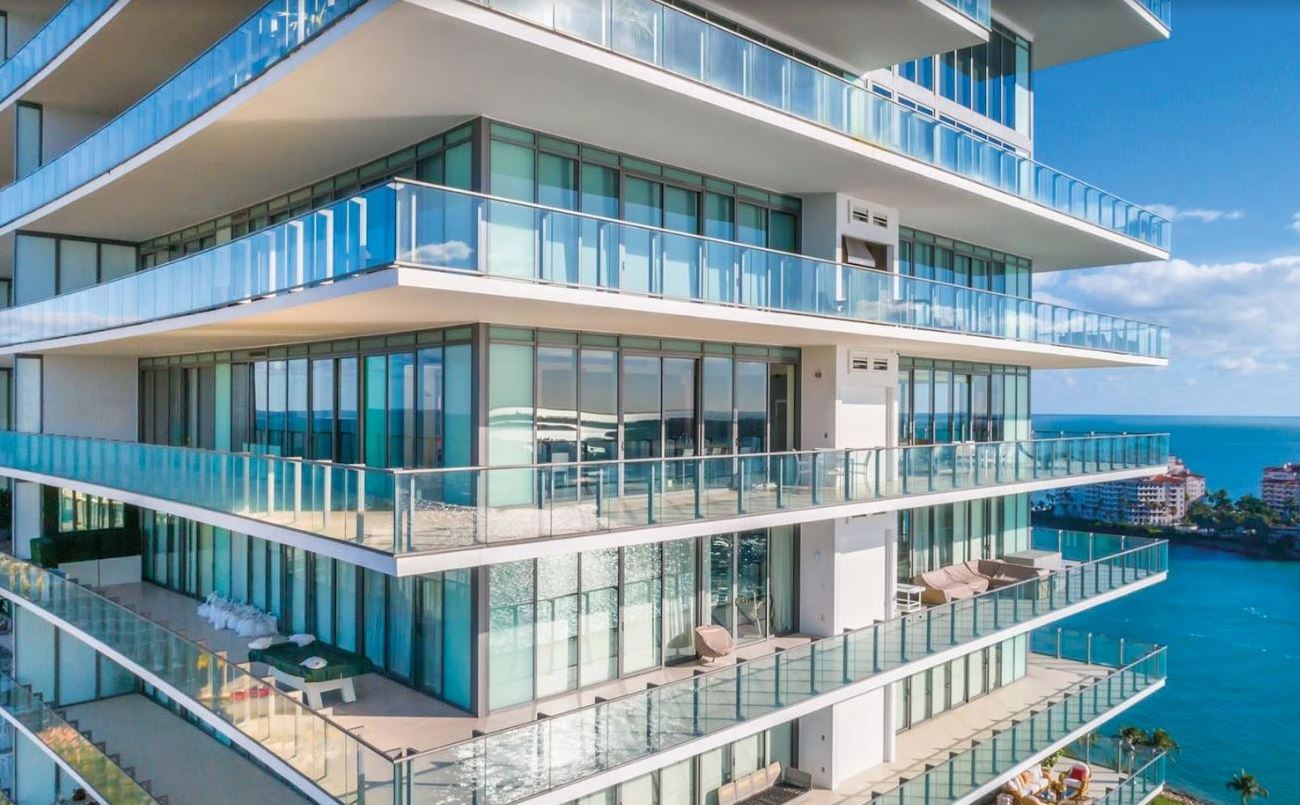 Apogee, South Beach – By The Related Group
It is located on, arguably, the last great waterfront site. Each floor of the 22 consists of four residential units with an airy, flow-through design offering grand views of water and city. The floor plans are available from 3,103 to 4,145 square feet. The residences have either three or four bedrooms in addition to the penthouses.
The sixty-seven residences at Apogee South Beach feature private elevators, spacious balconies and appliances with exceptional European cabinetry.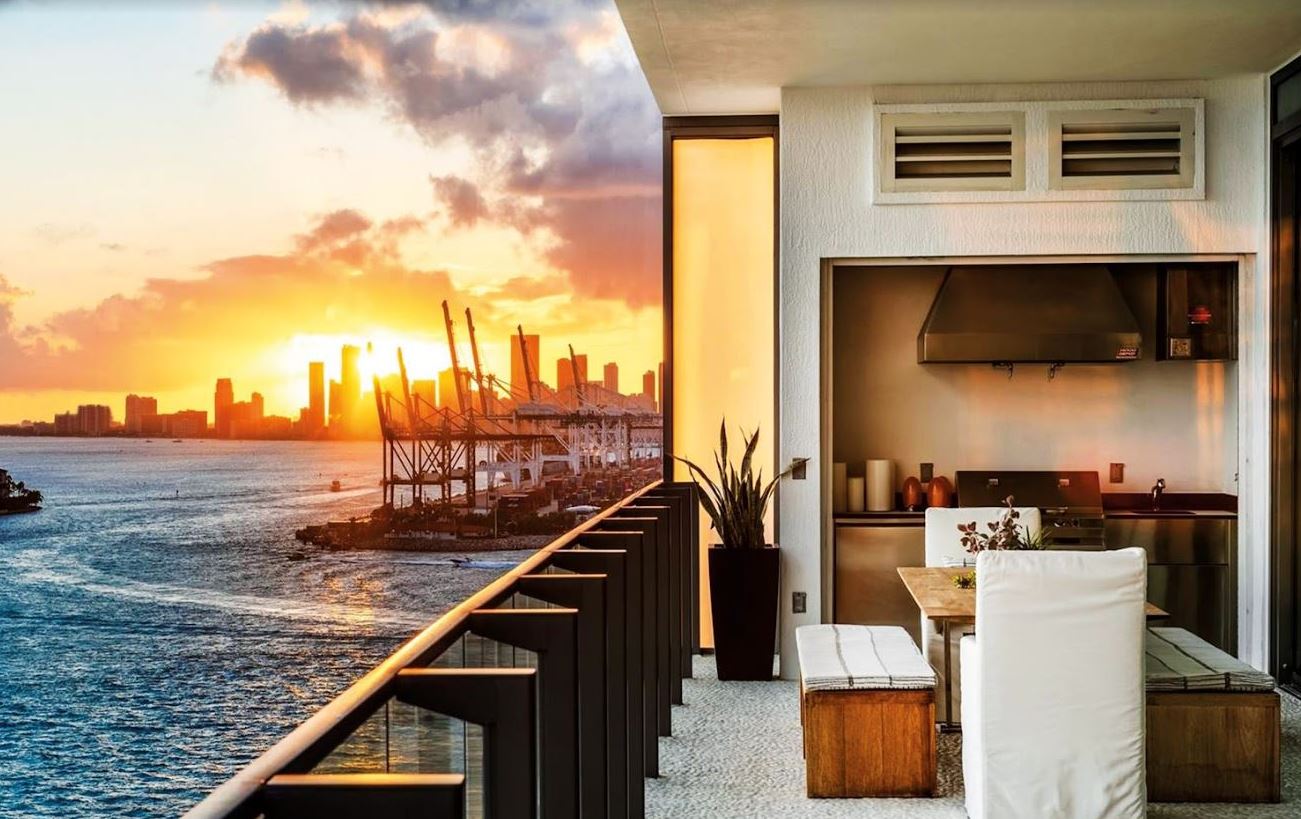 Apogee, South Beach – By The Related Group
The Apogee residences, lobbies and common areas have been designed by the world-renowned Yabu Pushelberg and his architecture firm. There are, for example, optically clear glass on the units and on the balconies, and granite and French Limestone finishes. There is a state-of-the-art spa and fitness center, an infinity edge lap pool in a garden setting, and each unit has an enclosed, air-conditioned two car garage, with artwork by the Cuban Born artist, Jose Bedia.
But with all the deep design finished and artwork, resident privacy and security are also of profound importance, so a full-service concierge and valet parking, are always available.
Continuum Towers on South Beach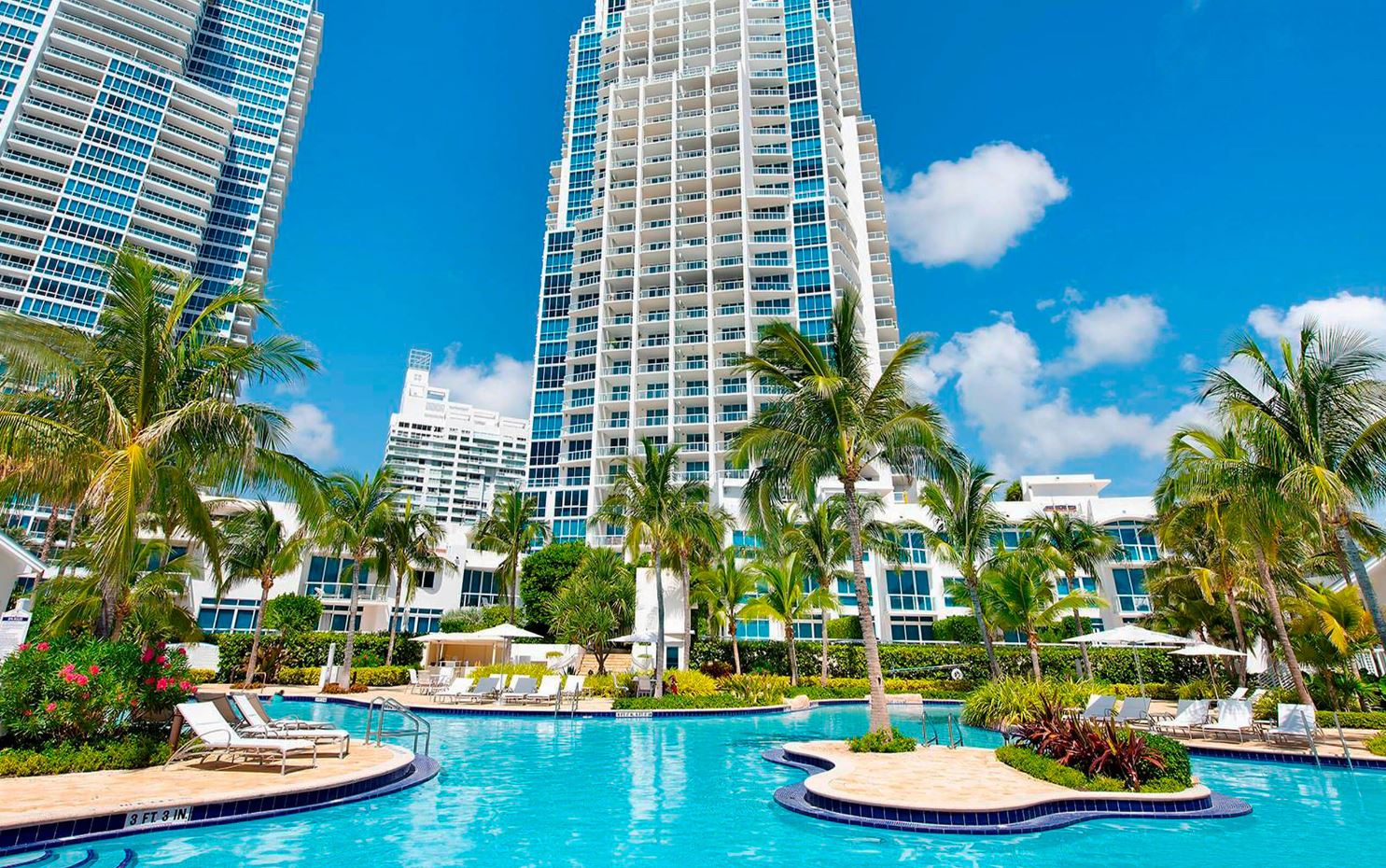 Continuum, South Beach – Continuum Company by Ian Bruce Eichner
Continuum South Beach is the name of two luxury condo towers, the North Tower and South Tower in the SoFi ( South of Fifth) area in Miami.
The two luxury condo towers share a variety of significant amenities: direct access to 1,000 feet of white sandy beach and a full-service Beach Club, a resort-style pool deck with a lagoon pool, 3-level high-tech fitness center with lap pool and rooftop sun deck, tennis pavilion, conference rooms, personalized concierge services, 24-hour security and 24-hour valet parking.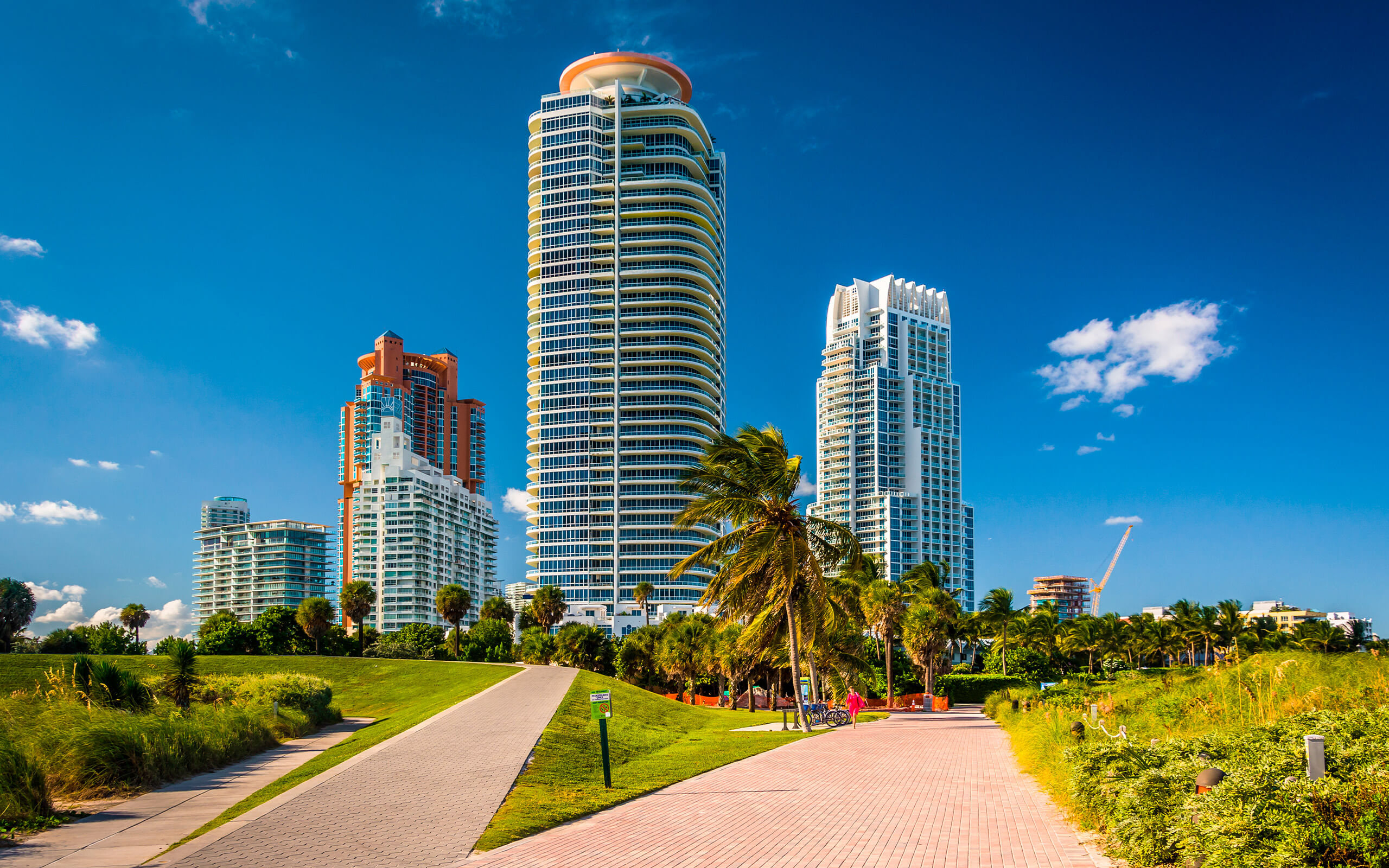 Continuum, South Beach – Continuum Company by Ian Bruce Eichner
The Continuum South and North Tower residences are two unique enclaves, due to their natural settings overlooking the Atlantic Ocean, Fisher Island and the Miami Skyline, yet are ultra private luxury settings as well. Continuum residents, in both towers, are treated to unparalleled views yet providing easy access to shopping and fine dining a few steps away.
The Continuum I and Continuum II condos in Miami Beach sit on 12 acres of prime waterfront sandy beach. They offer a wide variety of sizes, and buyers can choose from studio to 6-bedroom units ranging from 1,201-4,246 sq ft. The condo residences offer private and semi-private elevator foyers, floor-to-ceiling windows, 10-foot ceilings, security systems and private over-sized balconies.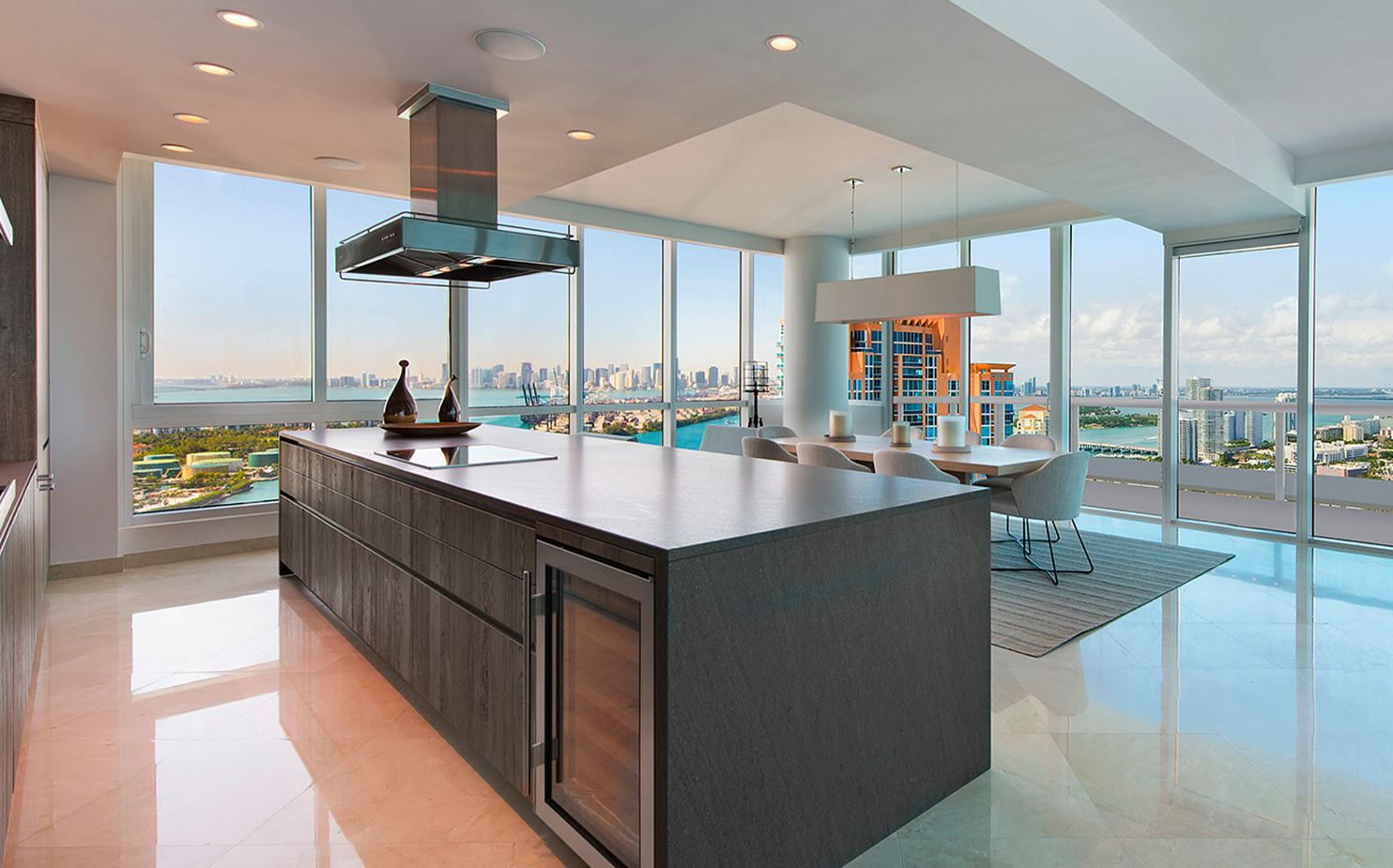 Continuum, South Beach – Continuum Company by Ian Bruce Eichner
Continuum condo living combines optimal tranquility and convenience.  Both have become known as urban sanctuaries, allowing the residents the peace of ocean views with the liveliness of the SoFi (South of Fifth) elite neighborhood. Continuum has also developed into a positive choice as a primary residence or secondary residence, a corporate relocation area, or a selection for a multinational with headquarters in a nearby business district.
Murano Grande At Portofino
Located directly on Biscayne Bay, on the Miami Beach Marina and in the SoFi (South of Fifth) neighborhood, Murano Grande has become the elite residential enclave skyscraper that takes essential South Beach living to a new, urban resort level.  It is also one of the tallest buildings in  Miami Beach.
Established in 2003 by The Related Group of Florida, it was designed by the multi-awarded and well-known Sieger Suarez Architectural Partnership. The interiors were designed by the equally well-known Rockwell Group interior design team.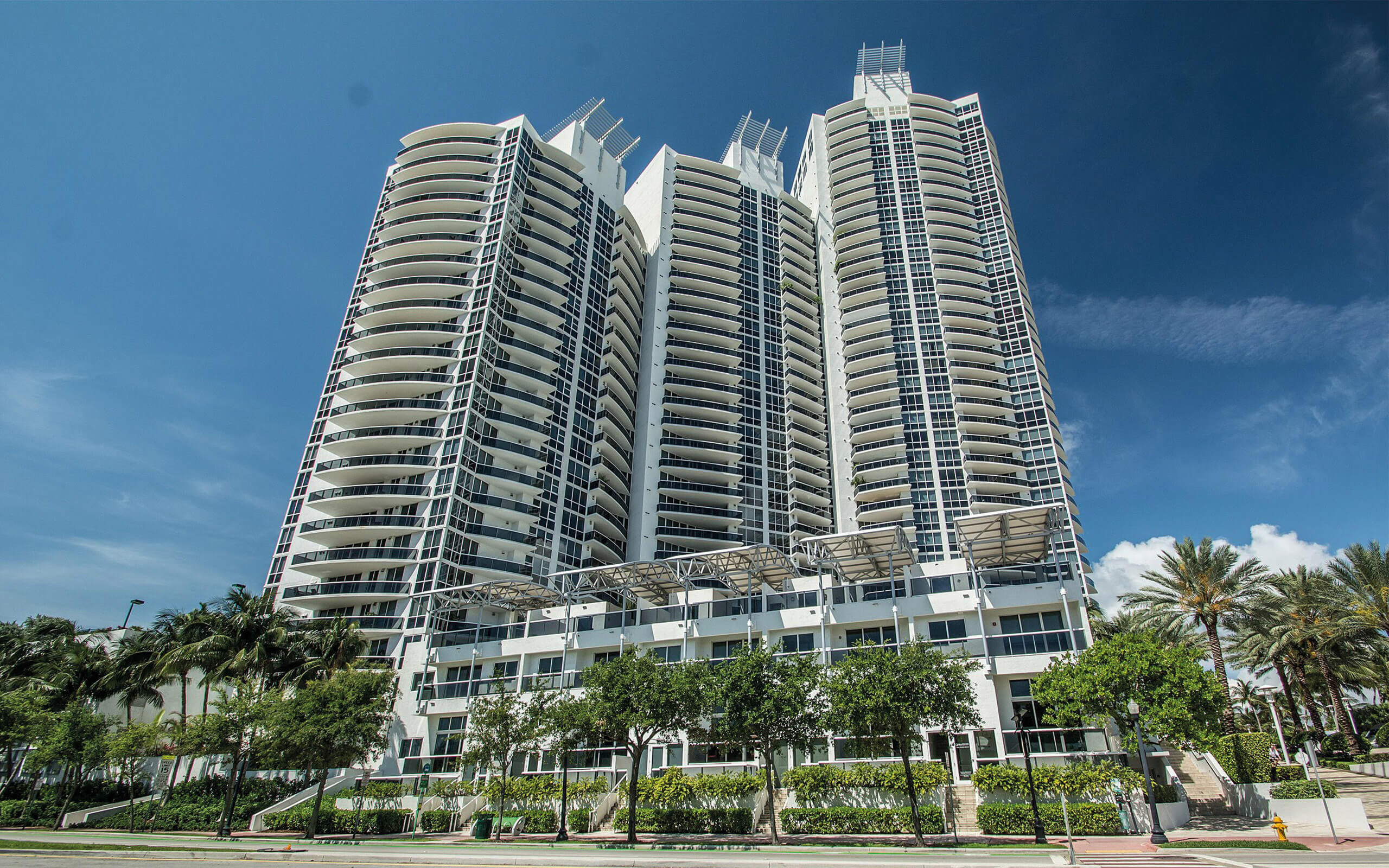 Murano Grande At Portofino, South Beach – By Related Group of Florida
Because of the combined unique architectural and interior design groups, the Murano Grande is, also distinctively designed.  The building is triple-tiered, rising 25 floors, then 31 floors, and finally 37 floors consecutively. On those floors of rising height, are 270 residential units featuring one-, two-, three-, and four-bedroom spaces, ranging from approximately 1,310 to 4,607 square feet. 
In addition, Murano Grande has 700 linear feet along Biscayne Bay to the west, with the Atlantic Ocean to the East, which allows exceptional ocean and bay views.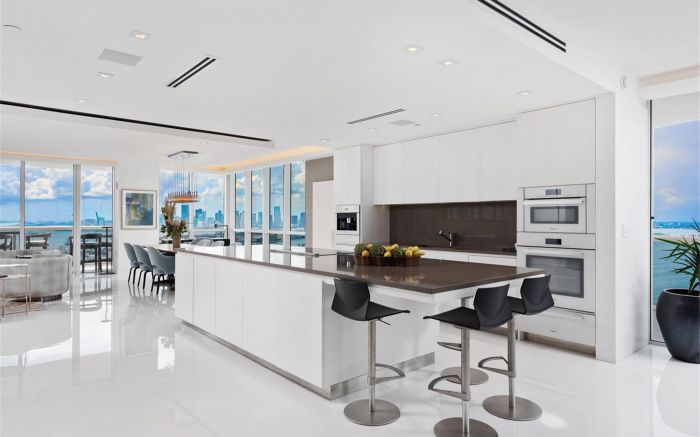 Murano Grande At Portofino, South Beach – By Related Group of Florida
Murano Grande also provides elite, world-class amenities and services to its residents: a heated bayfront swimming pool with spa; a state-of-the-art fitness facility; tennis court; 24-hour valet, security, concierge staff, and services; a 23-foot high lobby, designed by David Rockwell of Rockwell Group.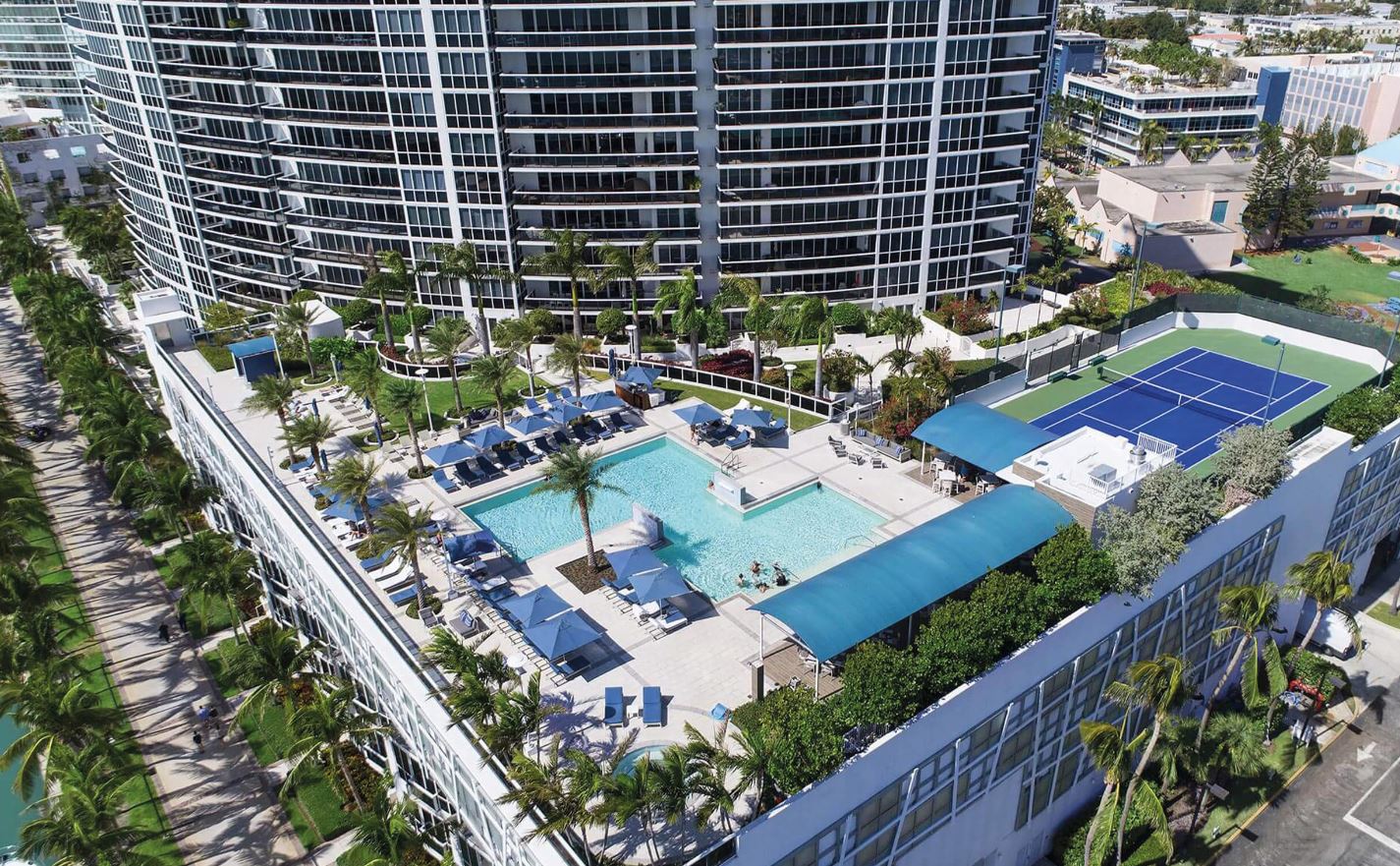 Murano Grande At Portofino, South Beach – By Related Group of Florida
Furthermore, Murano Grande's condominium residences are, arguably, the largest in the area and feature hurricane impact-resistant floor-to-ceiling glass windows, private elevator foyers, Sub-Zero and Miele appliances, marble flooring and granite countertops.
Murano Grande's premiere SoFi (South of Fifth) location is a short drive away from Downtown Miami, and about 30 minutes from the Miami International Airport. 
Murano at Portofino South Beach
Murano at Portofino stands close to Murano Grande, in the SoFi ( South of Fifth) neighborhood of South Beach in Miami. Both are separate constructions but are less than 10 minutes away from each other.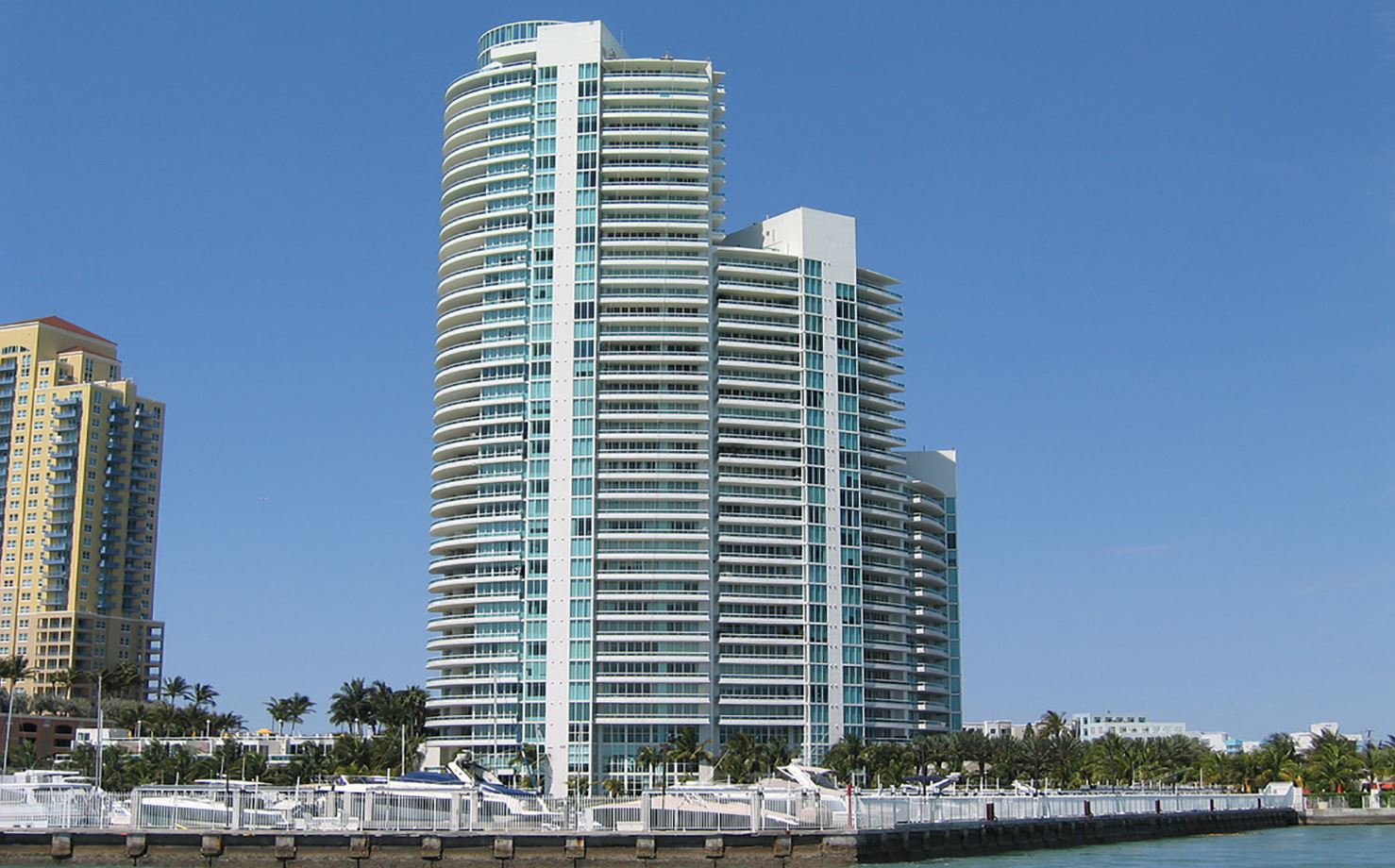 Murano At Portofino, South Beach – By The Related Group
Both buildings, Murano at Portofino and Murano Grande at Portofino were created by Thomas Kramer's Portofino Group in partnership with the Related Group of Florida, and both were also designed by Sieger-Suarez.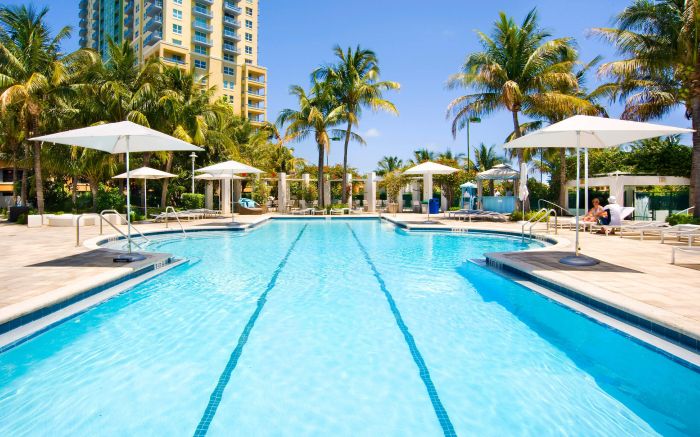 Murano At Portofino, South Beach – By The Related Group
There are multiple unique qualities to Murano at Portofino that separate it from other area condos. It was designed with floor-to-ceiling glass walls that offer its residents panoramic views of the ocean, Biscayne Bay, downtown Miami, Fisher Island, Key Biscayne, with cruise ships departing from the Port of Miami.
Murano at Portofino is located directly on Biscayne Bay on the Miami Beach Marina. The tower, which opened in 2001, is 402 ft tall and contains 37 floors.
In addition, the Murano at Portofino's private beach club, has a saltwater pool, open-air bar, cafe and perfected views of ships moving in and out of the Port of Miami. The views depict over 600 feet of Bay frontage. 
Finally, the exclusive health and fitness center has state-of-the-art equipment, sauna and steam rooms, and a heated Biscayne Bayfront swimming pool and spa.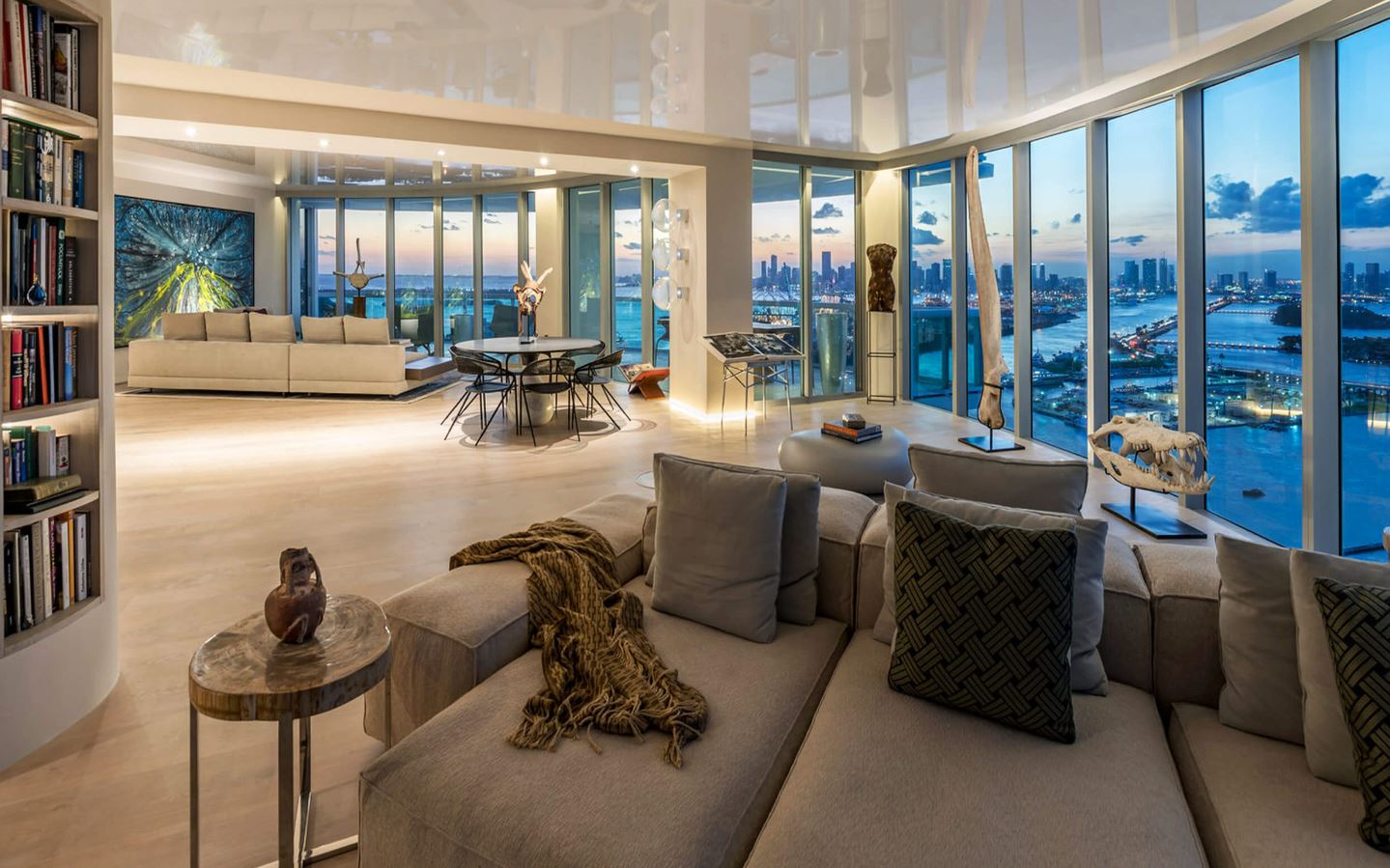 Murano At Portofino, South Beach – By The Related Group
With a porte-cochere entry with 24-hour complimentary valet parking, as well as multi-level covered and secured parking, there is always the safety of the residents in mind. There is also 24-hour security service and a consistently available concierge staff. 
Because of these unique factors, Murano at Portofino has developed a durable reputation as having the best of all worlds – combining beach, bay, ocean, and urban amenities in the inimitable SoFi neighborhood.