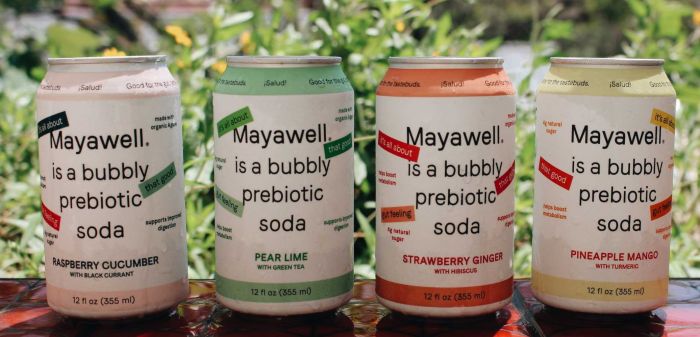 Mayawell
Wellness beverages have certainly been having a moment as of late. From CBD water to adaptogen teas tonics, there are an increasing number of ways to quench your thirst while taking advantage of some added benefits. One of the trends I've been particularly intrigued by recently: prebiotic soda. 
Made with ingredients that are said to support a healthier gut, these fizzy, refreshing concoctions have the sweetness and flavor you crave from a soda — and a lot less of the not-so-beneficial ingredients traditional sodas have. 
Among one of the newer options on the radar is Mayawell, which launched in 2020 with a curated range of prebiotic sodas that, according to the brand, have shown to help improve digestion, bolster the immune system, and boost metabolism.
"Right now, the world of prebiotics is kind of a Wild West. Several brands on the market are touting prebiotic benefits with no real science behind them and, in some cases zero prebiotic fiber present in their products," Mayawell co-founder Oliver Shuttlesworth said in an interview with Fortune. "We have six years of scientific research that shows our Active Agave does what it says it does: retain healthy gut bacteria to improve overall gut health."
The sodas pack five grams of fiber and are naturally sweetened with organic agave vs. conventional stevia, so there's no funky aftertaste. Bonus: each purchase helps support indigenous Mexican communities. "We support [these communities] with agave cultivation, crop reforestation, and the repurposing of agave fibers into woven materials," Shuttlesworth told Fortune.
Mayawell is sold online via its website, in select stores, and on Amazon.

Source: Sip On This: Mayawell is the Wellness Drink to Try This Season