Over 21 students and their families from the Cajon Valley Unified School District (CVUSD) were rescued by U.S. troops from Afghanistan. But a family with three students in the district is still stranded, officials said during a Sept. 2 press conference. 
David Miyashiro, superintendent of the Cajon Valley Unified School District, said around Aug. 16 the school district realized that more than 20 students were trapped in Afghanistan as they were visiting relatives during the summer and could not return to the U.S. to attend classes. 
"We know where they are, [but] there's no more ground troops there to help," Miyashiro told The Epoch Times. 
"The U.S. needs to do something."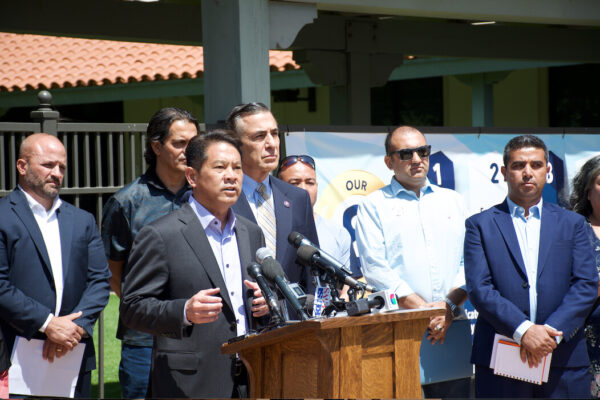 Miyashiro said many of these families worked with U.S. intelligence over WhatsApp and Facebook Messenger to direct special operations teams to locate and extract them to the Kabul airport safely. 
These evacuees worked with the U.S. military as translators and other positions, and "are not friends of the Taliban."
"They have to hide from the Taliban," Miyashiro said. 
Miyashiro said there are more than 1000 American students still stranded in Afghanistan, "and that's a conservative estimate." 
"People, as they come back to school and seats are empty, they are going to realize that those are those children. Had this team not acted, our students would be there too because they are in hiding, they are unsafe from the Taliban," he said. 
Four fathers said at the press conference they had to flee Kabul and pass through Taliban checkpoints to make it safely to the airport.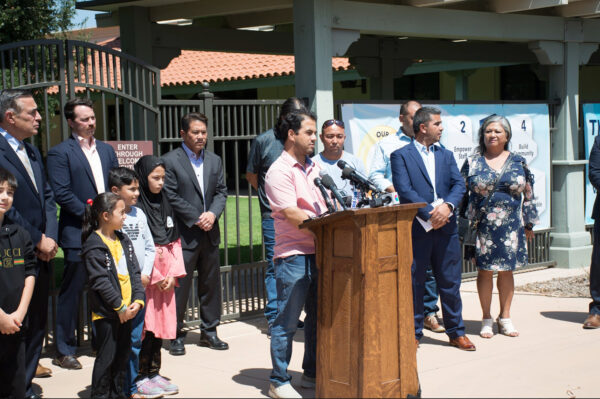 Mohammad Faizi has four children attending schools in CVUSD and came to the U.S. in 2017. This summer he and his wife took their children—the oldest is 13 years old and the youngest is 2 years old—to visit their relatives in Afghanistan. 
"I know that the United States is going to withdraw its troops, so I thought, this is the last time I have returned to Afghanistan to visit relatives," Faizi said. 
"I didn't think the Taliban would take Kabul before Aug. 31. Unfortunately, things have changed." 
The family arrived in Afghanistan on July 19 and bought a flight ticket to the U.S. on Aug. 17. But unexpectedly, on Aug. 14, he learned the ticket was canceled. He started calling for help and asked the school district to keep the children's places. 
"We are safe now, but the journey back from Afghanistan is very difficult. At that time there were about tens of thousands of people in front of the [airport] gate. We had to pass through the chaotic crowds and pass the Taliban checkpoint. It took us three days. We arrived at the U.S. military station. There were tens of thousands of people waiting there. We waited for four days before we were able to board the plane. For four days, there was no shade in the camp and we were exposed to the sun. Seven of us, there were only two blankets. But thank God, we had water and plenty of food, which were provided by the U.S. military," he said. 
The other three fathers that attended the press conference thanked the school district, congressmen, and U.S. military for helping their families return safely to the United States. They also called on the U.S. government to continue to help those American citizens stranded in Afghanistan, those with green cards, or special immigration status (SIV). 
They said that many people they know have American visas, but dare not go to the airport because they have to pass through Taliban checkpoints.  
Fraidoon Hashemi, the school district's rescue contact, said there are thousands of "invisible families" in Afghanistan who need help. They all have legal American documents, but some families' documents were burned by the Taliban when the U.S. government fled.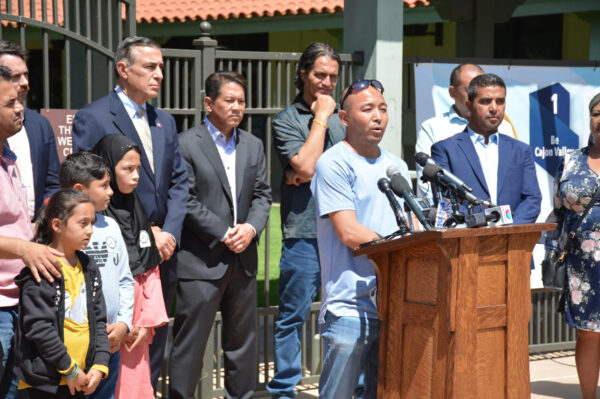 Mr. Juma said on Aug. 15, when he woke up in Afghanistan and saw that all of the U.S. government posts were abandoned, he realized "there was nobody in power." 
"On Aug. 16, the Taliban took over. Everything changed," Juma said. 
He was hiding for five days because he was working as a translator for the U.S. government.  
He said there are still thousands of families in Afghanistan that are special immigration applicants and green card and passport holders.  
Many of Juma's friends who have families and documentation are too scared to go to the airport. 
"Most of them are afraid of coming to the airport because coming to the airport you need to pass Taliban checkpoints in the city streets … most of [the Taliban] are checking the documents, so it will be very hard to get into the airport," he said. 
Issa told The Epoch Times that his office is working on a rescue strategy for those left behind in Afghanistan by coordinating with Pakistan, Qatar, Turkey, and other countries, because these countries still have embassies in Afghanistan. 
"We're going to leverage their resources until or unless there are more U.S. resources available," he said.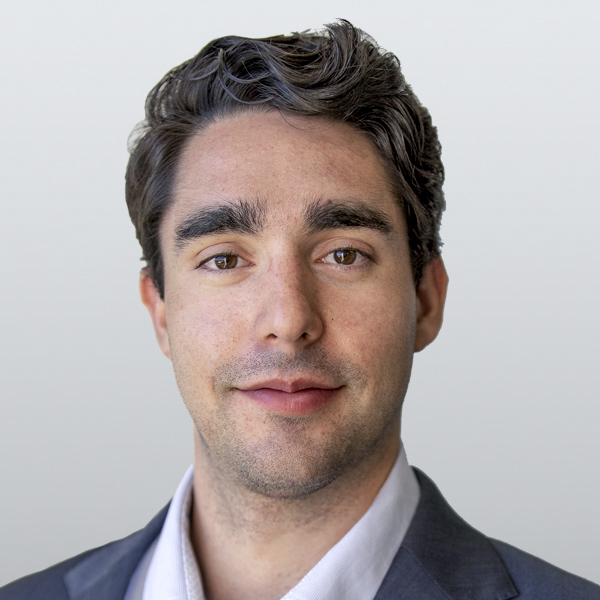 Jack Bradley is a daily news reporter for The Epoch Times based in Southern California.
Source: San Diego Families Rescued From Afghanistan, More Stranded