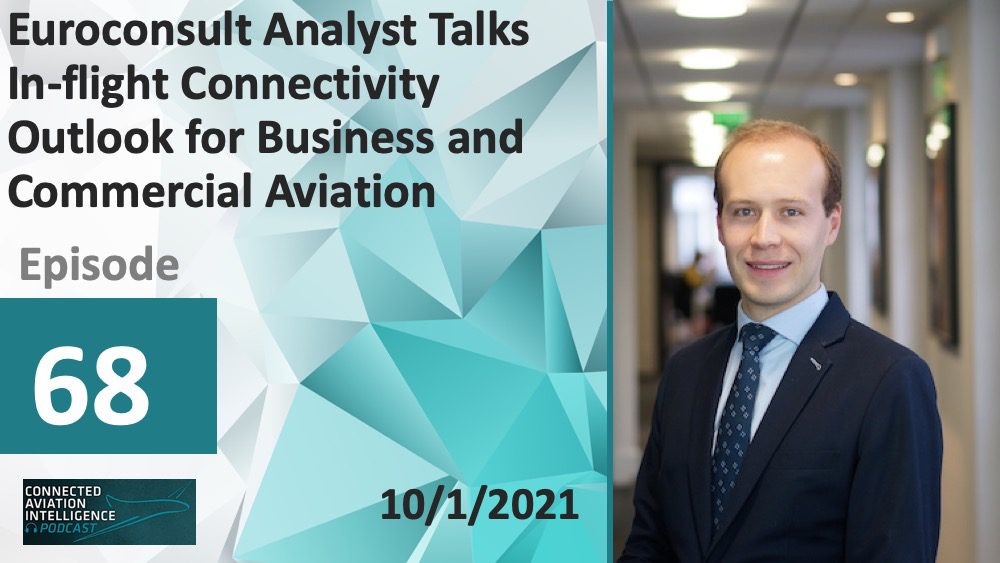 On this episode of the Connected Aviation Intelligence Podcast, we feature a discussion with Xavier Lansel, senior consultant for Euroconsult.
Xavier joins the episode to discuss some of the details featured in their recently published ninth edition of their annual in-flight connectivity market report, that provides a comprehensive analysis of the market's global trends and forecasts for the next decade, in terms of connectivity provided to onboard passengers.
In the report, Euroconsult predicts that the number of connected aircraft could double by the end of this decade, and there will be  between 16,000 and 20,000 connected aircraft by 2030. The 2021 edition shows that around 9,000 aircraft across 115 airlines are currently equipped with In-Flight Connectivity (IFC) terminals — a reduction of 2.5 percent compared to the previous year. Over 80 percent of these aircraft were connected through satellite connectivity, with the remainder connected through Air-to-Ground. The rate of new installations was much lower this year as a result of regional lockdowns, leading to difficulty in accessing aircraft.
Have suggestions or topics we should focus on in the next episode? Email the host, Woodrow Bellamy at [email protected], or drop him a line on Twitter @WbellamyIIIAC.
Listen to this episode below, or check it out on iTunes or Google Play If you like the show, subscribe on your favorite podcast app to get new episodes as soon as they're released.
Source: PODCAST: Euroconsult Talks In-flight Connectivity Outlook for Business and Commercial Aviation