Last weekend, Congress gave themselves until October 31st to pass the infrastructure deal (the Infrastructure Investment and Jobs Act or IIJA) and the budget reconciliation (the Build Back Better Act). With cuts on the way for the Build Back Better Act, it's more important than ever to raise our voices in support of transit funding.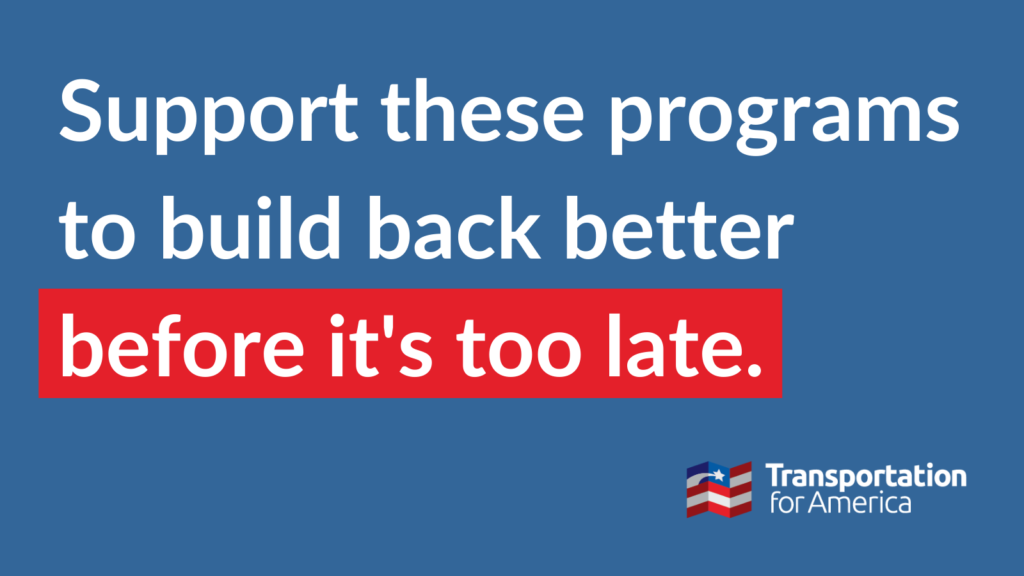 In the Build Back Better Act, the House Transportation and Infrastructure Committee allocated funds to key programs that are critical for our nation to create and sustain good-paying jobs, strengthen our global economic competitiveness, and reduce greenhouse gas emissions and other pollution. At the same time, these provisions will make real progress toward racial, economic, and environmental justice. 
Passing the IIJA without these provisions in the reconciliation bill will leave the nation in a worse state than before—facing rising greenhouse gas emissions and worsened access to jobs and services, especially for communities that need this access most. Even so, Congress is negotiating major cuts to the reconciliation bill that could threaten these programs in the name of an arbitrary bottomline.
The programs we can't lose
Investing in marginalized communities
A $10 billion transit program that includes operations funding and is specifically designed to connect residents of disadvantaged or persistent poverty communities to jobs and essential services 
A $4 billion program to mitigate negative impacts of transportation on underserved communities
Investing in local communities
A $6 billion program that would advance local surface transportation projects
Reducing greenhouse gas emissions 
$4 billion in incentive grants for states that show progress toward reducing greenhouse gas emissions, not only benefitting the environment but the local economy and public health 
Increased funding for rail 
$10 billion for the planning and development of public high-speed rail projects and $150 million for credit risk premium assistance, supporting jobs and providing for travel options
The Build Back Better Act increases transit funding by $10 billion, bringing transit spending up to $49 billion. If that number sounds familiar, it's the amount transit was originally promised by a bipartisan group of Senators—before the Senate stripped out $10 billion without any explanation. 
The funding provided by the Build Back Better Act promotes more local control and is flexible enough to include operating funds—a glaring omission in the IIJA. Adequate funding for transit, transit operations in particular,  is crucial for mobility freedom and access to jobs, education, and community for all users, especially youth, elderly, people with disabilities, and all those unable to access a vehicle.
The Build Back Better Act makes meaningful investments in rebuilding communities harmed by transportation decisions, another area where the IIJA comes up short. Highway construction and suburban sprawl have repeatedly caused the uprooting and marginalizing of communities, particularly BIPOC communities. It is crucial for the  government to facilitate rebuilding and reconnecting our communities. 
The Build Back Better Act is far more serious than the IIJA about taking action to reduce greenhouse gas emissions and improve infrastructure for all Americans. These are necessary programs that shouldn't be cut to meet a last-minute spending goal. We encourage you to call your Congressperson and voice your support for these programs in the Build Back Better Act before time runs out.
Source: Less than 30 days to speak out on transit funding