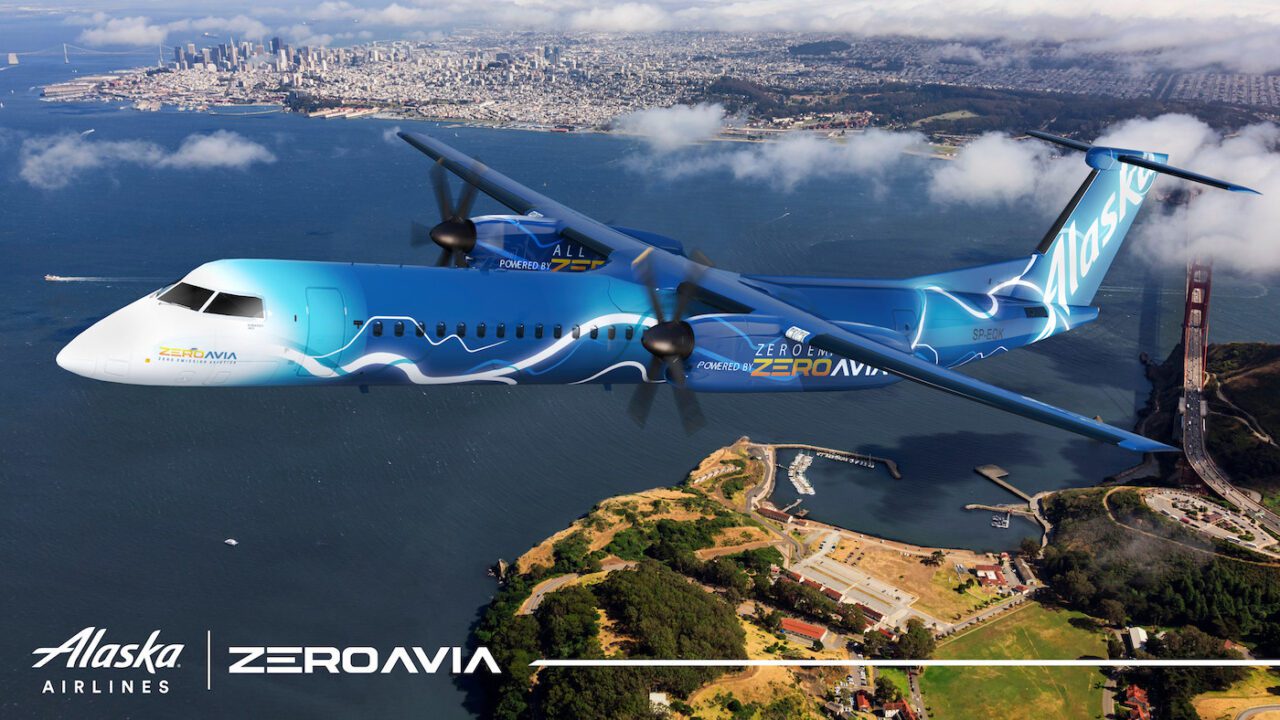 Alaska Air Group, the parent company of Alaska Airlines, has partnered with ZeroAvia under a collaboration that will develop a hydrogen-electric powertrain capable of flying a 76-seat regional aircraft with a range of 500 nautical miles, according to an Oct. 26 announcement made by the two companies.
The partnership marks the latest milestone for ZeroAvia, the California-based green startup that has been testing its hydrogen powertrain in the U.K. over the last year, in their effort to de-carbonize regional airline operations. Under the new partnership, the two company's engineering teams will scale ZeroAvia's existing hydrogen electric powertrain to produce the "ZA2000," that will be retrofitted onto a 76-seat De Havilland Q400 previously operated by Horizon Air.
"Alaska is committed to creating a sustainable future for aviation, working on all aspects of  a five-part path toward our goal of net zero by 2040," Diana Birkett Rakow, vice president of public affairs and sustainability for Alaska Airlines said in a statement announcing the new partnership.
ZeroAvia notes that the ZA2000 will be an engine family capable of producing between 2,000 and 5,000 kilowatts of power allowing for a 500-mile range. A new facility will be established near Seattle to support the development of the ZA2000 engine. Alaska has also secured options for up to 50 kits to begin converting its regional aircraft to hydrogen-electric power, starting with the Q400.
Alaska is including the new partnership in the five-step plan it laid out earlier this year to achieve net zero carbon emissions by 2040. Ben Minicucci, CEO of Alaska Airlines, previously commented on the carrier's view of electric aircraft during an appearance on a U.S. Chamber of Commerce Aviation Summit panel in April, describing how it could eventually be used on small passenger carrying aircraft.
"I think we need to help these technology companies with investment, and research so we can really accelerate, the issue of batteries is very heavy, but I think you'll see it on little passenger airplanes, whether they be 5-10 at first and then moving into the bigger regional market," Minicucci said.
ZeroAvia's Alaska Air Group partnership announcement came a day after another partnership agreement was announced with Mitsubishi Heavy Industries Regional Jet Aviation Group (MHIRJ) to provide engineering services in support of their effort to certify their hydrogen-electric propulsion technology for regional jets. MHIRJ will also provide "advisory services evaluating the feasibility of a green retrofit program for regional aircraft," according to an Oct. 25 press release.
Both the Alaska Air Group and MHIRJ partnership agreements come following a series of program development ups and downs for ZeroAvia, including an off-airport landing of their test aircraft near Cranfield Airport in April and the start of ground-testing for a 600 kilowatt powertrain designed for a 19-seat aircraft several months later in August.
"The aviation industry is one of the hardest industries to decarbonize; however, with this collaboration, we are one step closer to achieving our goal of making our skies emission-free," Val Mifthakhov, CEO and founder of ZeroAvia said in a statement. "We are thrilled to see Alaska taking the lead to implement clean technologies into their operations and look forward to putting boots on the ground with Alaska's team."
Source: Alaska Air Group Partners with ZeroAvia to Develop Hydrogen Power for Regional Airliners